One Color Filter is being used on Instagram reels and stories by many users recently to make videos and became a trend on social media. so it will help you to see what undertones your skins show up! some of them also share them directly to the tiktok profiles too. if you are searching for this filter here is how to use it!
the main reason why this effect became popular is that by applying it on the Instagram app to create a story or for making reels you can choose which color you want to show on the video. for example, if you are wearing a red dress and select the red option it will show only that color and converts others to black and white.
people use it to check many things like checking whether their hair fades, eyes lens, lips, teeth are pure white or not, and face color without wearing any makeup. mostly found on many female makeup influencers' profiles. if you could not able to use it or find the correct one don't worry here we are gonna explore it.
if you have seen these types of videos on tiktok or other social media apps rather than on insta that might be related to using any other apps or video editing applications like VN video editor, kinemaster app, etc. in case of tiktok users, also have a similar effect which helps to do the same thing, for tiktok you can read this guide to record the similar content easily!
How to do the One Color Filter effect On Instagram?
Open Instagram App after updating to the latest version. then open the creator profile named @Nahir.esper. after that go to the effects section and choose the item named "One Color" from there and click on try it! there are some other alternate methods also available like visiting the browse gallery.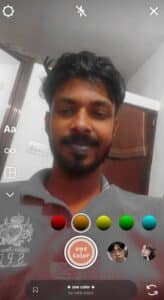 From the filter browse gallery feature there you can simply search any by providing the keywords on the search bar. to follow this method check out this post on how to look up effects on Instagram by using the name.
the easiest way is by using the direct filter link so no need to find it manually or by spending more time on that small task!