The New Trending Teenage-looking filter is ruling over social media reels and shorts. people who look significantly aged can be converted to young-looking faces by applying this effect on any iPhone or android operating smartphone.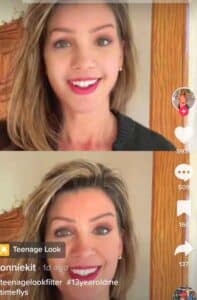 when someone applies it and starts recording the video, it will show two split screens on the mobile screen. one with the original face look and one with a cute teenager face removing the scars, smoothening skin, etc as well. by seeing the output everyone is now looking for testing it.
most users think it is a separate teenage filter app to be downloaded separately from the Appstore. actually, it is an effect developed by the tiktok team that is available there to select and use it. the major advantage of this version works well for both men's and women's faces perfectly.
people who tried it for the first time were obsessed with the results they got as we see on similar videos posted by the creators. after getting more popularity the celebrities also posted directly to other platforms like Instagram reels, Facebook, etc also went viral too.
Also, check out – How To Do Horrify Filter Challenge on Tiktok and Instagram
so let's check out how to find the correct teenage filter and use it on Instagram, Snapchat, and tiktok and make your followers and new audiences engaged with the amazing transformation by sharing parents, friends, or colleagues' looks.
How To Get Teenage Filter Effect On Instagram?
To use the teenage effect on Instagram, you have to use the tiktok app first to make the content, because till now there is no right one or similar thing available on the Instagram app. to get great results make sure to use the tiktok app, and save the video to the camera roll first.
After saving to the gallery tap on the reels option and select the saved file and add the right music for it and upload it. here is how you can find it on the tiktok application,
How to get Teenage Filter on Tiktok?
Open the app after updating to the newest version from the app store. tap on the search bar shown at the top and look up "Teenage Look" and tap the search icon to see all results. it will be shown at the top as shown in the screenshot provided below,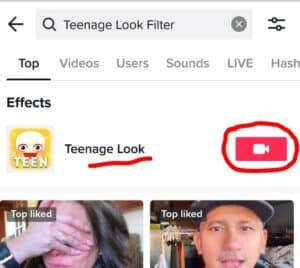 Tap on the video recorder icon to open the front-facing camera on your device with this effect applied to it. now simply press and hold the record button to start filming! if the item is not found after searching for it, use this direct link provided here to use it without doing the extra effort.