in the slap battles, a new update on 27 January, developers added new items like chaos badge and goofy glove which have an amazing ability. when someone with having goofy glove beats another player it will make them uncontrollable and lie them on the ground for a few seconds.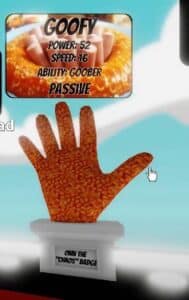 and if the user tries to run after getting slapped they can't run well as before for some time.so players will get more advantage with this ability to slap again to defeat them easily without giving them time to run and slow down their movement speeds.
also read – How To Get Snow Ball and Mitten Glove In Slap Battles
after releasing this new glove people are now interested in collecting it and using it in the game to try its abilities. so let's check out the steps to get it easily!
How to get Chaos badge and Goofy Glove in Slap Battles?
in order to Unlock the Goofy glove, you have to collect the "Chaos Badge" first. for that, a player with a confusion glove and one user with a goofy is required to do the required steps.
you have to get a slap from a player who has the "confusion badge" in the normal arena location first. then try to get a slap again from a player who already has goofy!
After getting 2 hits, the Chaos Badge will be rewarded, after that process, the Goofy glove will also be unlocked as well! this item has abilities like 16x speed and 52x power! by using it on an opponent, it will make them flip around and slow down their speed as well.
On Slap Battles the creators always try to include newer and unique items in every update. who like fighting genre games on Roblox can try it with friends or play it in single mode. here players have to beat others on the server using unique items to earn points and complete some quests.