Horrify filter challenge is a new trend every popular creator and people are following right now on tiktok which is getting good responses from all around the world. In this trend, people apply an effect on the tiktok camera and eat hot and spicy foods without any reaction.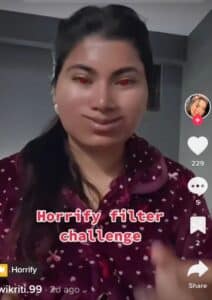 if they show their teeth, laugh or open their mouth the challenge will fail. who tried out this method and uploaded reels and short videos getting viral on social media platforms. more than 2 million+ creators have used this exact effect to make videos.
it is available on tiktok more than a few months, but recently someone started a food-eating challenge applying this became popular. the users shared their experiences who tried this method by assuming it's really hard to finish eating the food item without opening their mouth, laughing, or showing their teeth.
also check – How To Get Ai Portrait Filter on Tiktok and Instagram
After that people having tiktok accounts and Instagram started looking for the horrify effect made by tiktok to test whether is it possible to complete it or not. if you are also curious to join this trending thing this filter is required for creating the content. here is how to find it easily,
How to Do Horrify filter challenge on Tiktok?
open the latest tiktok app on your device and tap on the search feature shown at top of the home screen. then enter "Horrify filter" and hit enter to display the results regarding it. then simply select the first one and choose to use this effect.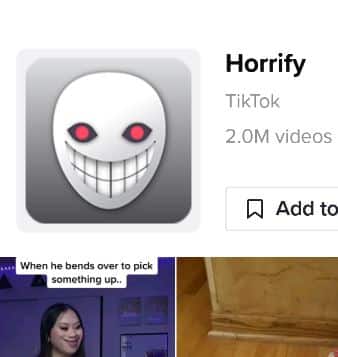 it will automatically open the camera and make sure to select or add the right music before recording. place your mobile device on a tripod or a gimbal and start recording the video. another easiest method to use is by using the effect link given here.
How to get horrify filter effect on Instagram?
The developer of this current item is tiktok and right now it's only accessible for users having a tiktok account. so in order to give it a try we recommend installing the app and using it from there directly. similar ones are available on Instagram but non of them will give perfect output when compared with this version.
every day newer trends are being followed and created by popular and nonfamous people. following these latest affairs helps to grow your social media profiles easily.