Hello Everyone! Are you looking for How To Get Anime Parents Filter and Piercing Filter Tiktok Icon Right? This is the right place to get Anime parents filter tiktok and instagram and the piercing filter effect tiktok and its icon that you are looking for! many users recently used these two filter effects and posted on both Instagram stories and many tiktok videos as well. and some of the users are a little bit confused on which app is used for these anime parents filter and piercing filter. here I will share with you all how you can easily get and use Piercing filter tiktok and the anime filter effect on tiktok and instagram.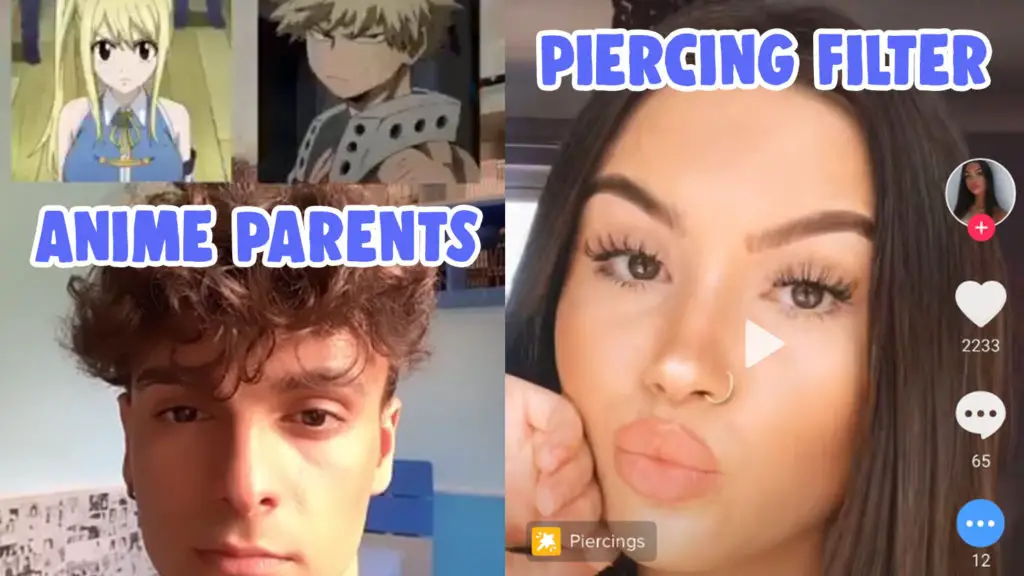 There is already a similar filter of Anime parents called "How To Get Find your Anime Real Parents" posted recently, you can also check it out from here as well. by using this anime parents filter effect which shows random two anime characters above your head on your mobile screen when to tap and hold the record button as your anime father and mother as well. if you like anime characters and likes to play with funny and interesting instagram filters you can check it out this one!
Another amazing filter effect is piercing filter effect on tiktok which is also a great filter effect which adds a piercing to your nose which looks very real on the recorded videos on tiktok. many people also looks for the piercing filter tiktok icon also on the internet.also i will add the icon of this Piercing filter on tiktok and the direct link of the effect here.
Also Check – BEST TRENDING INSTAGRAM FILTERS!
How To Get Anime Parents Filter and Piercing Filter Tiktok Icon?
How To Get Anime Parents Filter Tiktok and Instagram?
Basically this Anime Parents filter is being used from the Instagram app from the filters area and posting it to TikTok app by saving the recorded video to the camera roll or gallery. so many users think that this anime parents filter is an effect/filter which is available on tikok, but you need to use the Instagram app to use this filter. you can easily get this filter by simply searching for "Anime Parents" on the Filters gallery on the Instagram. if you don't know "How To Look Up A Filter On Instagram By Name" Check this article provided here.
Or you can also get and use this anime filter effect by finding the creator page on instagram as well. The Creator of this Anime Parents Filter effect is @Manu_ace1 after opening this profile tap on the filters tab near posts and select anime filter and tap on the try it option to use it on instagram story camera. After recording using this filter you can save it from the stories and post it to TikTok or anywhere you like as well.
How To Get Piercing Filter Tiktok and Link?
Piercing filter effect on TikTok can be easily found and usable by yourself by simply searching for the keyword "Piercing Filter Tiktok" and select any video which having the piercing filter effect use in it. once you open it will notice the effect name "Piercings" above the username (as shown on the screenshot below) of that video just tap on it to make and record video using this filter. You can also use this Direct Link to Get Piercing Filter Tiktok provided here.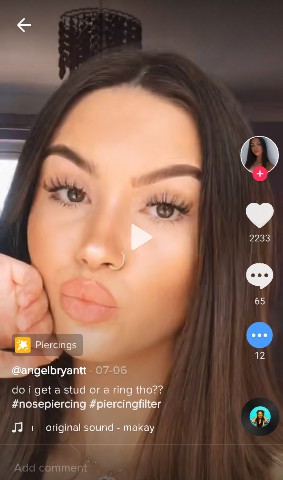 What is the Piercing filter tiktok icon?
many users also look for the piercing filter effect's icon on TikTok also by identifying the icon of the filters you can easily select and use it from the effects area.
I hope all of you enjoyed reading this post on How To Get Anime Parents Filter and Piercing Filter Tiktok Icon well, also make sure to add me as your friend on Instagram and Support me by clicking the bell icon/ Subscribe button to receive the latest updates on instagram filters, TikTok filters, and Snapchat instantly!