Are you friends looking for the solution on How To Change Profile Picture On SoundCloud app android and IOS? millions of users are using the SoundCloud application on both the android and IOS and by creating the user account on the SoundCloud app we need to change the profile picture also, here in this article I will help you, friends, in changing the profile picture from the camera roll or gallery easily from your android or IOS iPhone devices easily.
Sound Cloud is really Amazing an biggest Music or audio website which having more than 77+ million registered users and 176 million+ listeners around the world and still using, every music lovers who listen to music every day can't even remove this sound cloud application from mobile devices. the sound cloud app allow users to search for latest hits and favorite music easily and create your own playlists as you like.
Don't Forget to read – BEST TRENDING INSTAGRAM FILTERS!
How To Change Profile Picture On Soundcloud app android and ios?
many users are looking for the issue on how to change profile picture on soundcloud android and ios app version.but right now changing profile images or pictures from the android app is not possible,but in coming updates on soundcloud app will adds this feature to update the profile picture from the gallery.
If you have Desktop pc or something you can easily change your SoundCloud user profile picture instantly, if you have no pc or mac it is possible to change profile pic on Soundcloud on android and ios by logging in to your SoundCloud user account from the web browsers in the Desktop mode.
after signing into your soundcloud in desktop version just tap on the profile as shown below screenshot on the right side of the soundcloud website,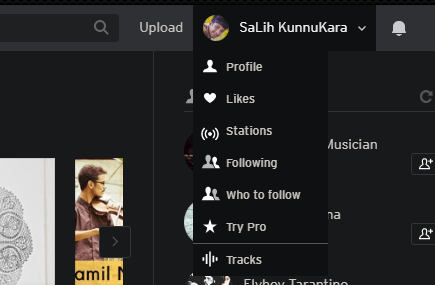 Juat tap on the profile from your mobile device and on the next screen click on your existing profile picture to change or upload any profile picture from your gallery or camera roll in one click, just select any profile pic and crop it and wait for some time to finish the uploading. after that, you can close the SoundCloud website interface and refresh the Soundcloud application installed on your IOS or Android. there you can see the new Profile picture has been successfully added to your profile.
If you are still confusing changing the profile picture on soundcloud app from androm or ios checkout this small video tutorial provided below,
How To Change Profile Picture Soundcloud Mobile?
I hope all of the readers likes this post on How To Change Profile Picture On Soundcloud App Android and IOS well, also make sure to support me by clicking the bell icon or the subscribe button to receive latest updates on tech and instagram, tiktok filters instantly.