Hello PSO2 Lovers! I hope you all are safe at home! Are you searching for How To Change Resolution to Full screen PSO2 PHANTASY STAR ONLINE 2 on windows 10? the phantasy star Online 2 game released recently and many users downloaded this pso2 game and facing the low-resolution issue and people are looking for how to full screen pso2 or How to make PSO2 full screen on the internet. here in this article, I will help you to fix this issue on the pso2 phantasy star online 2 game easily by following the steps provided here
PHANTASY STAR ONLINE 2 also known as PSO2 which is a free to play online game which can be easily payable on platforms like Windows Desktop pc and laptops, Playstations, Xbox, IOS and android devices and Nintendo switch etc well. this is an interesting online role play action game which is being playing lot of users around the world right now. this pso2 game is developed by the Sega.The users can easily customize the characters on pso2 and the users can use more features and accessories to make their character more good.
Also Read – BEST TRENDING INSTAGRAM FILTERS!
in pso2 (PHANTASY STAR ONLINE 2) you can get access to more features to make more action-packed by adding more weapons to attack enemies in realtime as well.
How To Get and Play PSO2 Phantasy Star Online 2 for free Windows 10 and Xbox One?
You guys can easily play this phantasy star online game by going to the official Website of PSO2 from here. or you can also download the game from windows 10 store for windows 10 users and for Xbox One Players can get it from here as start playing this game for free.
How To Change Resolution to Full screen PSO2 PHANTASY STAR ONLINE 2 on windows 10?
Finally, the big announcement came up that the Biggest RPG game of japan is now available in North America and Which is released on Windows 10 and Xbox as well. and now it supports the cross-platform play support which makes it possible to play with other platform players.
If you are facing the lower resolution issue on PSO2 or Phantasy Star Online 2 on windows 10 you can easily switch back or change the resolution to full screen and increase fps by simply following these method provided below,
Open the PSO2 game and open settings
Select the Environment Settings Option
Then select screen option and set your game resolution and FPS
After applying tap on Save Settings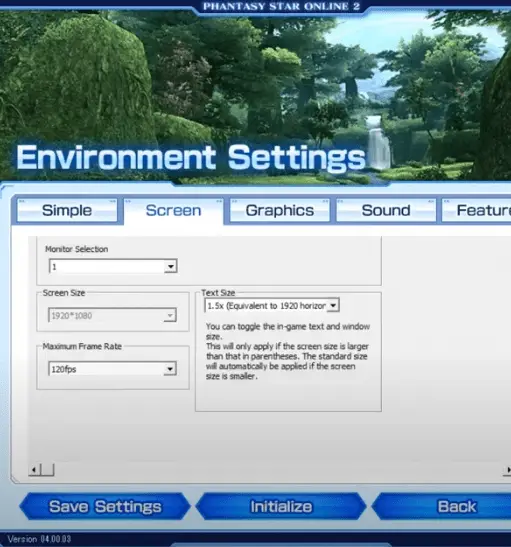 Friends, here you can also check out the video tutorial on how to full screen pso2 or change pso2 game resolution easily on phantasy star online pso2 game easily is provided below,
I hope all of the gamers likes this video on How To Change Resolution to Full screen PSO2 PHANTASY STAR ONLINE 2 on windows 10 well, alos make sure to click the bell icon to receive the latest updates on tech updates and instagram filters, tiktok filters and snapchat instantly!