hello, friends what's up? do you want to know How To Look Up A Filter On Instagram by name? many users don't know how to search for an Instagram filter or effect right now on Instagram people are using many trending Instagram filters day by day. also, popular celebrities and users also post stories by using these best Instagram filters.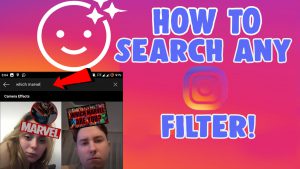 The usage of Instagram filters is increasing day by day because Instagram allows every user can now create and publish augmented reality filters or effects on the Instagram story and Facebook story as well. on the Instagram filters basis which character are you or what are your filters gone more viral on Instagram and TikTok as well.
You can also check out this post to find the best Instagram filters everyone is looking for BEST TRENDING INSTAGRAM FILTERS!.
How To Look Up A Filter On Instagram By Name?
To find or search any Instagram filters by name on Instagram just follow these steps provided here.to find any Instagram filters which are published by many creators on the Instagram app, When you click to open the Instagram story camera feature located on the above-left side where you can see some available filters only. to search any filters on Instagram by the name just swipe to the right side and go to the end of all available filters.
in the end, you will see a filter effects icon that shows the "Browse Filters" option, just tap on it to open the Instagram story features a gallery where you can easily look up or search for any filters from the above search tab seen there easily.
How to Find That Instagram Filters Everyone is looking for?
To Find/get any Instagram filter on Instagram is a hard thing because now on the Instagram app does not added any filters search tab or Instagram filters. nut now you can easily find this filter on Instagram by watching this small video tutorial on how to search filters on Instagram/ how to find filters or effects on Instagram easily.
by following the method used in the above video tutorial you can easily find out or search for Instagram filters you are looking for very easily.
Also, Add me as your friend on Instagram
I hope you all like this post on How To Look Up A Filter On Instagram By Name Search well. make sure to subscribe to this blog to get more and the latest updates on Instagram and tech updates instantly.