Did you see the most viral Funeral Coffin dance videos? you guys want to know How To Get African Funeral Coffin Dance App Filter on Instagram and Tiktok? I will show you the exact method to get and use this filter on your both ios and android mobile devices easily. this coffin dance is also known as African funeral death dance and you can also use it with your own face as well.
Coffin Dance app meme is very popular on the internet these days. you might see this funeral coffin dance by some people as a meme on many funny and interesting fails type video on instagram, tiktok , twitter and facebook etc. but now a developer created an animated version of coffin dance app or a filter which have option to add your or your friends face in it as coffin dancers as well and post it to your own instagram story or tiktok.
Are you feeling bored? Click Here to play Games and Earn Money!
Also Check out – BEST TRENDING INSTAGRAM FILTERS!
How To Get African Funeral Coffin Dance App Filter on Instagram and Tiktok?
Friends, currently this version of funeral coffin dance app is not an application for ios or android, and it is mainly and instagram filter which is not currently available for tiktok.but if you have instagram app with an account in it you can easily use this coffin dance meme filter on tiktok easily.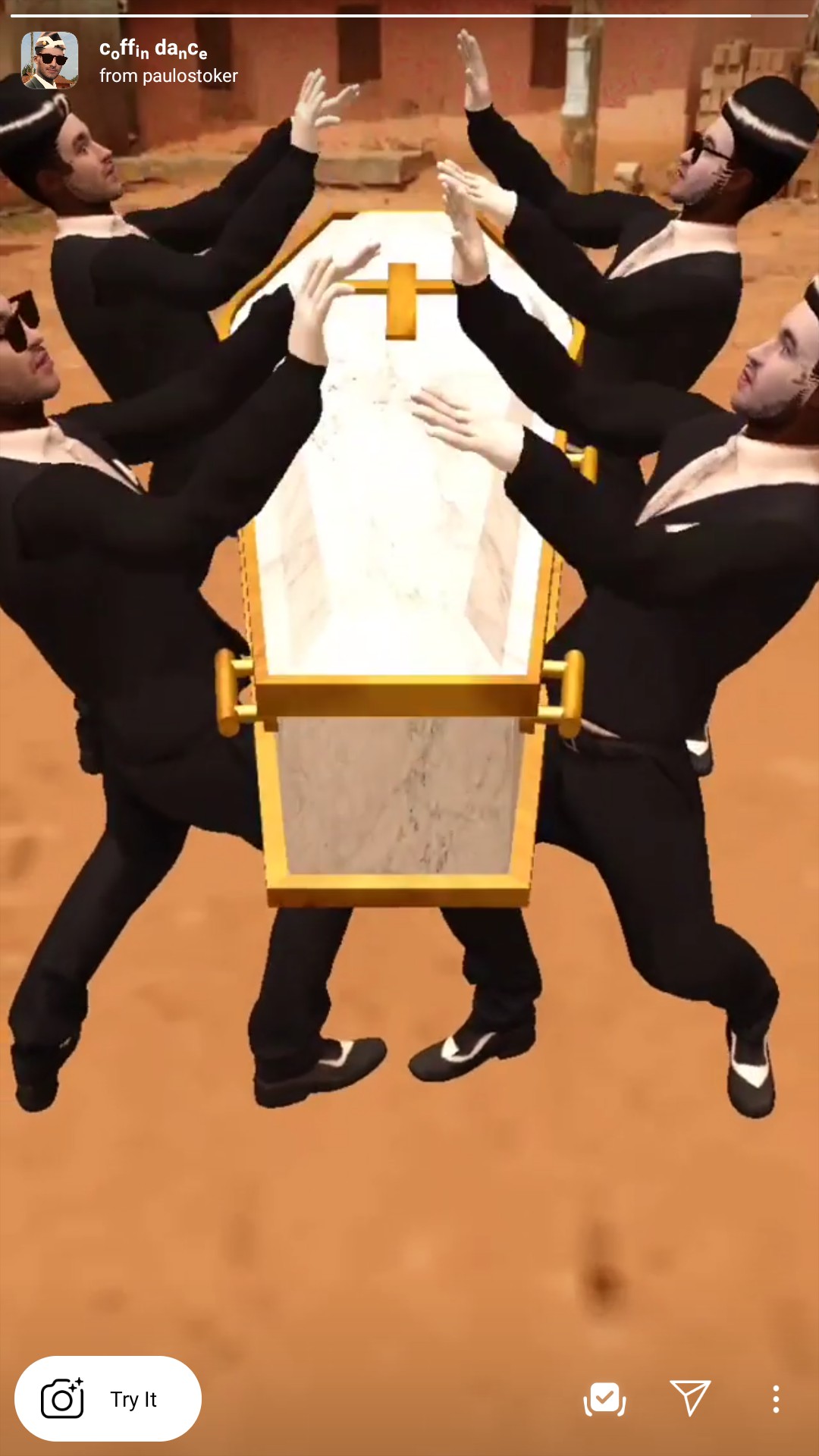 How to make African funeral coffin dance video with your face?
This version of add face to funeral coffin dance meme app filter on Instagram can be easily find/get from the developer or the creator of this filter on Instagram and following them as well.the creator of this funny Instagram filter is @Paulostoker, after following them on instagram you will see a filter effects tab near the posts tab. ( if you can't see any filters tab, try updating your instagram app to the latest version)
After finding the filter from their profile just tap on it and press the try it option to use it on your instagram story camera easily.after that you can use this with your own face and make coffin dance meme video easily.
How to get Coffin Dance filter On Tiktok?
Currently this funeral death coffin dance filter is not available on tiktok or snapchat, but if you wanna try it on tiktok and snapchat you should try saving the video using instagram story feature to your gallery or camera roll and then you can simply upload it to any app as well.
I hope all readers like this post on How To Get Funeral Coffin Dance App Filter on Instagram and Tiktok likes well. also support me by clicking the bell icon or the subscribe button to receive the latest updates on instagarm filters and tiktok as well.