Hello Friends! I hope you all are safe at home! Are you guys looking for How To Get Floppy Nose Filter on Instagram and Tiktok and Squidward nose Snapchat filter? this became very trending on social media for a few days now. here in this article, I will show you how you can easily find and get this amazing funny floppy nose filter easily on your mobile devices.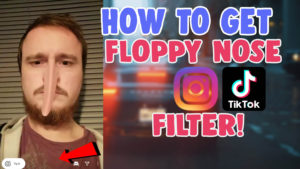 I know you guys are looking for this filter now on the internet right now, I have seen that many Instagram users and TikTok users are using this floppy nose filter effect and making videos and posting it to the Instagram stories and on TikTok. many people are thinks that is this a tiktok filter on an Instagram filter? after searching everywhere I found the exact filter effect of floppy nose/flappy nose filter effect that everyone is looking for, you can easily get and use this filter by easily reading this article as well.
Floppy nose filter became very hit on the internet because it's a very funny and interesting one. by using this filter effect on your Instagram story camera which transforms or blends your nose to down and makes your nose taller and bigger. when you tilt your face the nose swings!
Also Checkout – BEST TRENDING INSTAGRAM FILTERS!
How To Get Floppy Nose Filter on Instagram and Tiktok?
Friends, You can also checkout this tutorial video provided below to know how to get and do this floppy bird filter easily,
you guys can easily get and do or make a video using this long nose or Squidward nose filter on Instagram and TikTok by simply finding out the creator profile on Instagram and following them Or Searching the Filter Directly on Instagram by Name.( if the profile is private to use the filter effect you should follow them to see the effects profile tab, some users hide effects tab and make them available only to the followers). If you are a tiktok/snapchat users and wanna try this floppy nose filter on tiktok you should have instagram app installed and can easily save the video recorded from instagram story using this filter and post it to tiktok.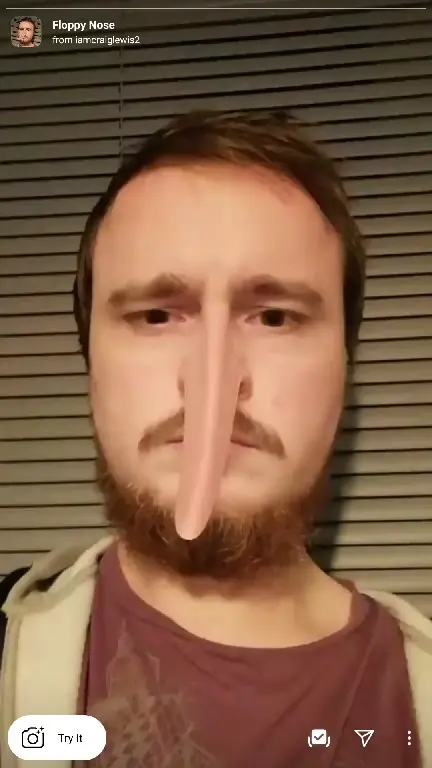 The Creator of this Floppy Nose Filter on Instagram is @iamcraiglewis2 you guys can open up this profile and follow him, after that switch to the filters/effects icon near the profile posts and scroll down and find this floppy nose filter. after finding this just tap on try it option or save to camera to use and save this effect to your instagram story camera as well.
How To Get Squidward nose Snapchat filter?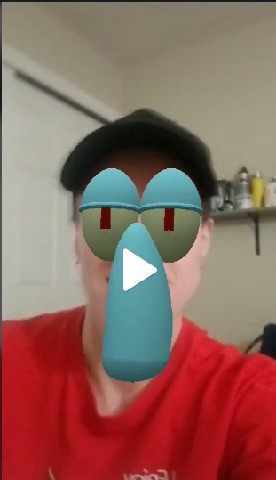 You can easily get this funny Squidward nose Snapchat filter Directly on Snapchat by Clicking here!
I hope all of my friends who read this article on How To Get Floppy Nose Filter on Instagram and Tiktok Squidward nose Snapchat filter likes well, also make sure to click the subscribe button to receive the latest updates on Instagram filters, TikTok filters, and Snapchat instantly! and Add Me As Your Friend On Instagram!