Roblox Kaiju Universe's new update of 5.25 has been rolled out recently and introduced a new minilla remodel to the game experience. the players are now excited to unlock this minilla character because it has more abilities and powers than others.
It is said to be that Godzilla is his father and has similar features too. the weight will be up to 1900 tons.the health will be from 3500-4600 rage. which has greater swimming speeds of up to 90, and walking speeds of less than 16. but if you do the sprint it can go a maximum of 27 by using this character in the game.
Kaiju Universe is a fun-to-play player vs player-type Roblox game where you can complete special tasks and level up your abilities. in this world you can destroy things, fight with other players who are on the same server, and earn rewards. they also offer an option to modify the powers of the kaiju according to the usage.
This kaiju was shown in the film released in the'90s called "Son of Godzilla" after that it gained more fans too. now it can be unlocked from the game by following the right steps accurately. some users shared tweets by uisng codes they are able to claim the item.
How To Get Minilla in Kaiju Universe?
To Unlock the Minilla in Kaiju Univers, the first step you have to do is locate the Minilla Egg or head from the maps location. it can be spawn in any area on the map, so roaming arond all of the areas using the fast flier might helps to find it quickly. avoid searching it on underwater area while exploring because there is no chance to spawn there,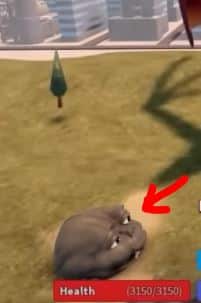 Using the private server is the recommended method. that spawan area changes randomly when someone collect it.After reaching the egg smply tap on it to claim the item.
Next Showa Gojira should be sacrificed. for this buy showa with 12000+ g cells by going thouhh menu>shop. after buying it will reset Gojira! at last loss 15% of gcells that you own. after completing all of these steps you can buy the new minilla easily and start enjoying its experience.
also check – Get Dragon Pets in Islands Roblox
What are the Egg or Head locations to Unlock Minilla Remodel?
Most users who recenlty find the eggs mentioned these locations have more change to see the heads, here are some best areas mentioned below,
Base of prom mountain located at center of the river
Near the Skull Island Area and at the top side.
British Island near the shell
Florida sea shore
A Small islant located near birth islant
Top Area of the big Volcano
Narrow ways near British Island
Small Tunnel located in Tokyo
Near rare golden tree
Birth Islant top cliffs