If you are looking for How to use the IND money app To Buy and Invest your money in the US and International stocks market without paying any commission as on other apps and referral codes for ind money app, you can read it from this article well, now you can use this Ind money app to buy top us stocks like Apple Inc, Amazon, Tesla, Netflix, Microsoft, Google, Facebook, Twitter, Nvidia, Shopify, etc without any extra fees as well.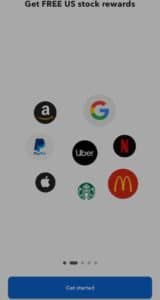 The interface of this app is very user-friendly and any beginners to the stock market can easily start investing and buying these popular stocks with one click! another best feature is they provide 750₹ free for the new user's first purchase of any stocks. you can simply get your favorite apple share for free!
many new users who downloaded this Ind money app don't know how to set up or open the account correctly by providing the right details to start buying the US stocks, right now is the best time to invest in stocks, because you may have seen the huge fall happened in the market recently and many popular stocks are now available to buy in the low rates compared to previous rates.
Create an Account from here to buy US Stocks!
They also provide users to earn via referrals too you can also share by signing up from this link you can get a ₹750 free bonus and claim any of the stocks as well, so here you can check out all of the steps you need to follow in order to start your account and start investing, some people also want to use or find the referral code for signing up to earn free rewards, so it will be also included here as well,
Also Read – How To Buy Shiba Inu Coin On Wazirx Easy Method
How to use INDmoney App to buy/Invest in US Stocks India?
First of all, To set up the app and get free ₹750 Sign Up from here on indmoney which is available on both the iPhone and Android devices. you can also access it from the laptop or desktop as well. but to access more features and a good interface we recommend using the app version available for mobile devices.
After Installing the Indmoney Application, just tap on the "get started" option and enter your mobile number on the screen, after that you need to provide your details like First name, Last name according to your proof details and email address accordingly.
To Earn an Extra ₹750 you need to enter the Referral code GQA4AT0TAMZ to get amazon stock, MNB4AT0TNFX to get Netflix share, and ZIQ4AT0TBTC to earn BTC Bitcoin as a reward! after that just click on continue and select your preferred email id and click on continue. then you need to allow all permission and provide PAN card details and press continue.
Now after creating the account you need to complete your KYC details also in according to start investing in US stocks, for this from the home screen top area just tap on the create account option and agree to all and confirm your PAN details and information like DOB, marital status, fathers and mothers name, income, education qualification, occupation, current employment status etc correctly.
Then you have to take a selfie of yourself without shaking and should have your face clearly visible, and click on continue, after that select the risk profile according to yourself like Aggressive, Conservative, and balanced, for less risk and for beginners you can select Balanced for less risk while comparing with other profiles and tap on agree and select confirm.
After agreeing with all of the terms you may need to wait for some time to get your account activated and start adding funds to the account. after successful verification, you can claim free 750 rupees of us stock by adding funds by tapping the add funds option from the home screen, you will be able to see "Add money" shown at the top area.
How to Add Funds to Buy/Invest US Stocks in India?
To Buy or invest money in your favorite US stocks, just open the Indmoney App and select the US stocks option first, then in the explore tab you will be able to see all of the trending stocks, Tap on any of them and select the buy option.
Before placing the order, tap on the add funds shown above and fund your account first. you need to add a minimum of ₹1000 – ₹ 5000 at the first time to claim the free reward as well, if you fund 1000 first you can get ₹250 free and above 5000 you can get 750₹ accordingly!
How to make money using INDmoney App?
you can earn money by using the referral feature available in the application and earn rewards such as stocks or cryptocurrency! for this just invite your friends and family members to the app by providing your invitation links via any medium like WhatsApp, Instagram, or telegram, etc as you like.
By using the invite feature both of the users will get benefits and earn money as well, there is an option to select any of the stocks like Netflix, Amazon or bitcoin before copying and sharing the links to the users is a major benifit.