The Beast Movie Review in Tamil, Telegu, kannada and Malyalam has been came out after the first show preview event happened at UAE is said to be it will be a best action movie for all of the thalapathy vijay fans around the world.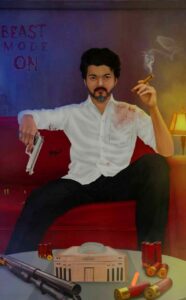 The most awaiting vijay's movie has came out and it will be a mass and class entertainer for all of the audiences around the world, most of the beast reviews people says that its truly made for the fans and youngsters and they will never disappoint by spending the money for the ticket.
For the first shows of this beast movie all most theaters are houseful already because of the prepaid bookings as well, there is no doubt it will collect a huge gross profit in the film industry from the first day! when you look up the tickets on the book my show, paytm etc you can see none of the tickets available right now!
Also Read – How To Use INDmoney App to Buy/Invest US Stocks In India
here you can check out the beast movie reviews of the public audience and reactions who watched the first shown on theatres today on 13 April will be provided below, so you can analyze it yourself about the movie well and book your tickets from your nearest theatres accordingly.
Beast Movie Review First Show Public Response and Reaction
In the story of beast veera (Vijay) tries to save all of the people who trapped inside the mall which has been hijacked by certain group of people. this movie is based on best action, thriller and drama included in it as well, here actor vijay thalapathy plays the main role as an agent Soldier named Veera Raghavan.
Umair sand who watched this movie in UAE posted the first review of beast says it will be vijays career best performance, and a full thalapathy show and a well made thriller and it will keeps you engaged in the film without any lags!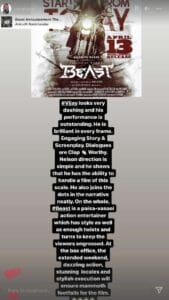 He also mentioned The Dialogues of this movie are clappable and mass included engaging screenplays, it will be worth watch movie with great direction of Nelson Dilipkumar and nice twists! in most of the frame vijay looks more stylish and stunning as well!
The beast movie time duration will be about 2 hours and 36 minutes, it will be released in tamil, Kannada and telegu languages. director of this film is Nelson Dilipkumar, produced by kalanithi maran. cinematographer is Manoj Paramahamsa. music by Anuridh Ravichandar and editor is Nirmal respectively.
Beast Movie Casts
Thalapathy Vijay as Veera
Pooja Hedje as Preeti
Yogi Babu
Selvaragavan
Shine Tom Chacko (Malayalam actor)
M.M Faruki
Aparna Das (Malayalam actress)
Ankur vikal