Now people are using an effect that makes you look like a madonna on many tiktok accounts and Instagram reels! if you are also looking for how to do or find the madonna filter on tiktok, here is how you can use it on your ios iPhone or android mobile without any issues.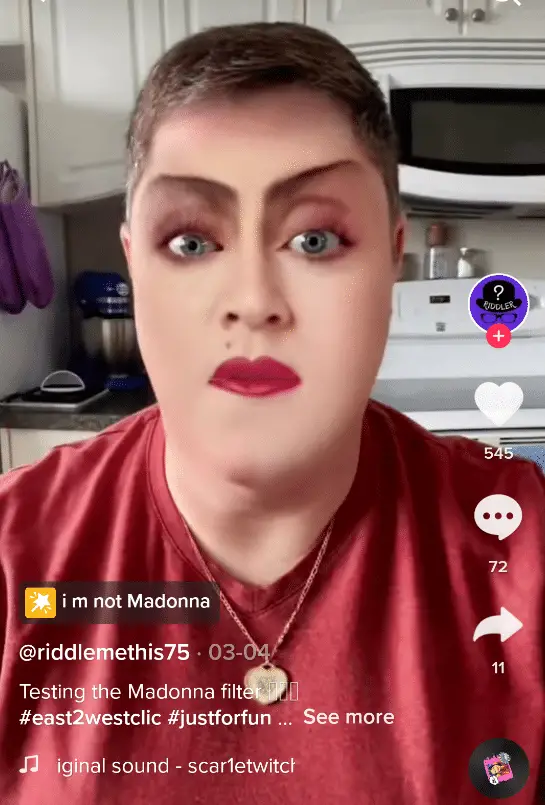 Madonna is a popular American Singer, Actress, and songs writer. Madonna's Material Girl official video is trending right now around the world, its views are around 104 million now and still counting as well, recently a filter launched on tiktok named "I am not Madonna" became viral and many users made videos using it and posted it to their profiles got many views.
Some users said that this madonna effect is not available in their region and not able to use it well on their devices, if you also had faced any of these troubles, some of the working tips and solutions will be also included as well.
Also Read – How Can You Remove a Filter or Effect From Tiktok Video
Around 85000+ videos have already been posted by applying this madonna filter as well, if you still haven't tried it, you can do it easily by following these simple steps mentioned below,
How To Get Madonna Filter Effect on Tiktok?
To Find the Madonna Filter,
Open TikTok App
From the Home Page Tap on the Search
Now Enter "I am not Madonna Filter" and tap enter
Then select the effect from the results
by tapping the video recorder icon you can record video easily!
that's how you can find madonna effect easily!
By selecting this madonna face filter on tiktok, it makes you look like famous singer madonna by adding lipsticks, changing your eyebrow shapes, changing check shapes, etc, actually, it makes you look so funny, that's why everyone uses it and the creator named it I am not before the name.
you can also use this direct madonna effect from here!
here is the icon of the effect,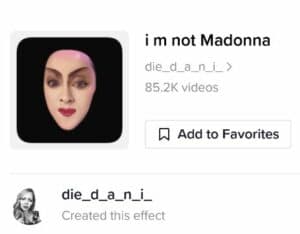 the creator of this madona tikotok filter is @die_d_a_n_i_ , you can check out their profile and support them if you like as well!
What to do if the tiktok filter not working?
if you are not able to find it via searching try any of these methods,
Try Updating your App to the Latest version
Use the Best VPN App and change your location to others
before using the VPN app you need to clear all of the cache or data after closing the app, then open the app again by connecting to another region. if you still facing issues, that might be because of using outdated mobile devices, or IOS or Android OS you are using in your phone may be too old also cause these errors!