Here you can check How To Get Twilight Vampire Cullen Filter On TikTok and make a video using it from your ios android or iPhone easily by only taking some seconds to do it! this filter effect is being used by users on TikTok by saying trying out the filter that makes you look like a vampire from the twilight movie!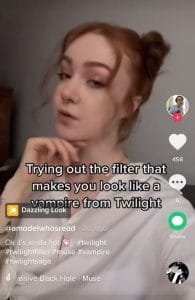 The real name of this Twilight effect filter on TikTok is called "Dazzling Look" also known as the Cullen filter is getting used by so many people on TikTok and on Instagram reels videos and stories! if you have seen reels that might be the users saving the video from the TikTok app and directly adding it on Instagram.
By adding this filter you guys can also make the trending video and transform it into a Cullen vampire look and show it to your followers, this can make you look so attractive as on the twilight! if you have an interest in trying out the latest effect and create quality content with it you should make one with this one also on the next post!
People who use TikTok and Instagram who are more serious about growing the followers and video views/engagement, by making content based on the latest TikTok trends and filters available can surely help to grow faster! so you can post content regularly on social media using hashtags on the latest trends and challenge videos!
Also, you can check out – How To Get Peppery Filter Effect On TikTok
How To Get Twilight Vampire Cullen Filter On TikTok?
To get the Twilight Cullen filter on TikTok,
Open your Tiktok app
On the search bar enter "Dazzling Look filter" and search it!
Now you will see an effect at the top of the results!
Tap on the snall video icon next to the effect name to use it
also make sure to add the desired music to that video!
thats how you can get it easily and make video with it!
Some of the TikTok users still not getting this exact filter by searching for it you can also look for the keyword like "Twilight Filter Tiktok" also, if you still can't find it just use this direct link for Twilight Cullen Filter given here, once you are on that page select the record icon to open the effect on the app directly!
What is the vampire filter on the TikTok icon looks like?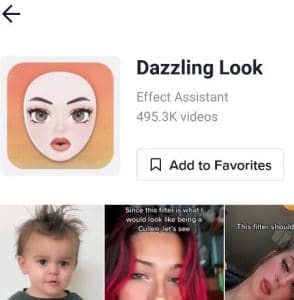 If the filter is not available in your country you can try using the VPN App available for android or any other VPN apps for IOS as well, thanks for reading this article on How To Get Twilight Vampire Cullen Filter On TikTok well! for any doubts feel free to comment down in the comment session!