Hello everyone! I hope you all doing well, Are you searching for How To Get Anime Ethnicity Instagram filter and Megaphone Filter on Tiktok? both of these anime ethnicity filter effect on instagram and tiktok and the Megaphone effect filter on TikTok is very demanding one on internet right now, many people are looking and searching for how to get and use anime ethnicity filter and megaphone effect, I will show you how you can easily get and try out these filters on your mobile device.
Anime Ethnicity filter effect on instagarm filter is now very popular on instagram stories of the users and posts recently, you may notice this filter called anime ethnicity on some tiktok videos also, this filter effect is now only available on the instagram stories feature and you need to use the Instagram app in order to try out and use this filter on TikTok by saving it from the Instagram story to your camera roll.
Also Must Read – BEST POPULAR INSTAGRAM FILTERS!
Megaphone filter on tiktok is also a trending sound effect filter which is being used my many users on tiktok, by using the megaphone filter or effect on tiktok, the current voice on the recorded video changes to the megaphone effect easily, here I will provide you how you can do the megaphone sound effect on tiktok after the anime ethnicity filter on instagram and tiktok.
How To Get Anime Ethnicity Instagram filter and Megaphone Filter on Tiktok?
Both of these filters are now very popular and some of the users want to get and try using the anime ethnicity instagram filter and the megaphone filter on tiktok is provided below, just follow the provided steps and can be easily used on your IOS or android mobile devices.
How to get Anime Ethnicity Instagram filter and tiktok?
friends, you can easily find and get this Anime ethnicity filter on insta and tiktok by finding the developer of this filter on instagram and following them.
The creator of this Anime ethnicity filter on Instagram is @Malsaeed55 , you guys just search and open this profile on your instagram app and tap or switch to the filter face effects tab near to the posts and find this exact filter named Anime Ethnicity from there, after that, you can easily try and use it on your instagram story and TikTok easily.
How to Get Megaphone Filter effect on Tiktok?
Megaphone filter effect is a new filter effect added to tiktok app recently, here i will show you how you can find or add this megaphone filter easily to your recorded video,
First of all,
Open your Tiktok App on your mobile device
Then record a video using the Create or "+" button
After recording the video click next and select voice effects as shown below
After clicking the Voice effect option, just wait for some time to load the sound effects then you can see the Megaphone Filter effect right there.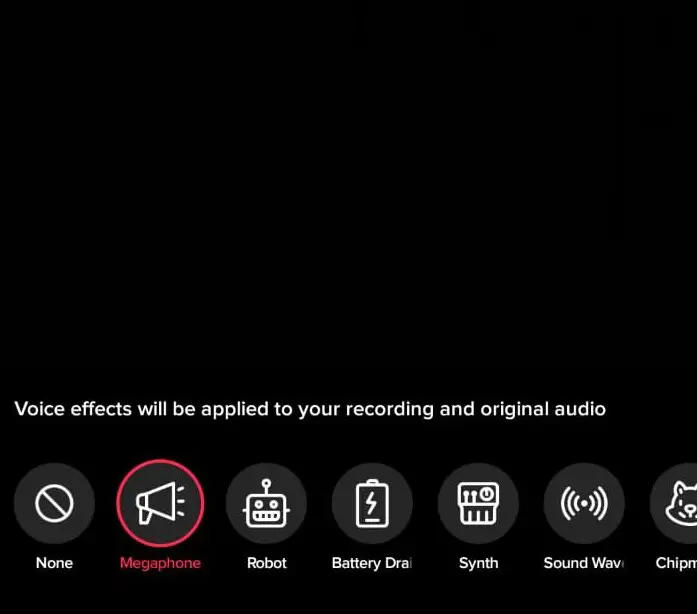 After clicking on the Megaphone filter effect check out the recorded video there you will figure out different sound effect, after applying it just tap next and post your video to tiktok!
I hope you all like this post on How To Get Anime Ethnicity Instagram filter and Megaphone Filter on Tiktok well, also make sure to click the bell icon/ subscribe button to receive latest updates on instagram filters, tiktok filters and snapchat instantly!