Hello Instagrammers! Hope you all are staying safe at home! Wanna know How To Change Instagram App Icon On Android and IOS iPhone 10 Year Anniversary Special/ get Instagram app icons feature on Instagram that many users are now looking for this! We know guys you are also looking for how to change the Instagram icon/ change the Instagram app icon on ios or android officially without using any other third-party apps on your mobile devices!
Instagram developers recently launched a new feature that allows instagram users to change the instagram app icon from the lists as an official way. recently we have seen that many people use custom icons on android devices and IOS using certain themes as well, but this time because of the 10th year celebration they added a new feature to change the app icon look to celebrate instagram app's birthday!
Also Check out – BEST TRENDING INSTAGRAM FILTERS!
How To Change Instagram App Icon On Android and IOS iPhone 10 Year Anniversary Special?
A lot of Instagram lovers users already tried using this change the Instagram icon on their mobile devices, maybe this feature will be limited for some device models only and for a specific time, the developers may remove this feature in coming updates or after this 10 year anniversary. And if you are a hard fan of instagram or want to enjoy the new app icons for Instagram, here I will share with you guys how you can easily do or get access to these new vintages and a variety of Instagram app icons will be provided here as by following these simple steps.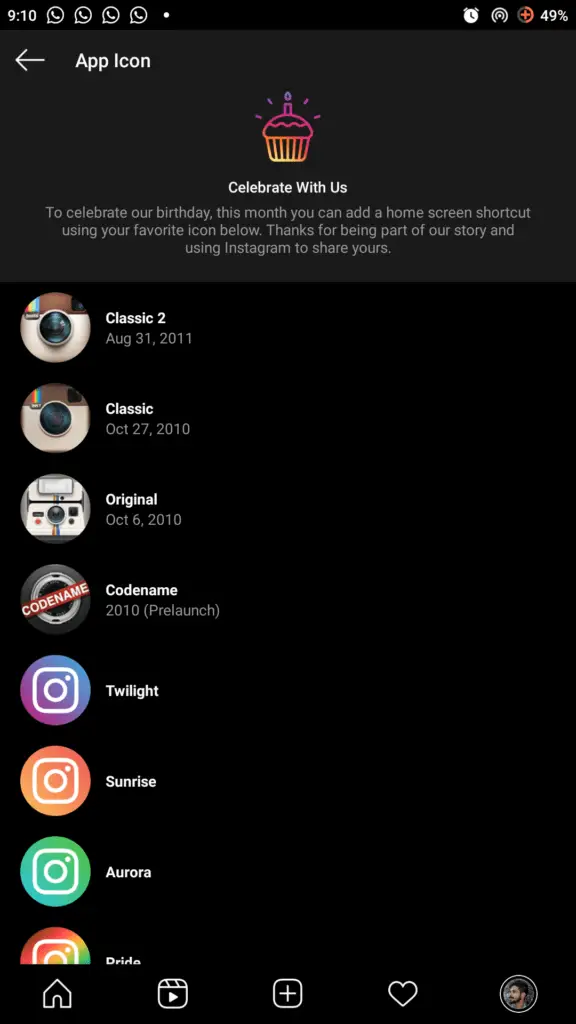 This Change App icon feature on instagram is really like an easter egg because it's hidden from instagram home. they says that to celebrate Instagram's birthday this feature will be available for this month and when you select an icon from the list it will be added as a shortcut to your home page as well, Instagram developers also included app icons of the previous year's instagram icons also from original to the late 2011 versions. here I will show you the methods you can follow for both the IOS and Android.
How to change the Instagram app icon on Android?
First of all guys please note that you need to use the latest version of the Instagram app or the Beta version from the Google Playstore! using the beta version will have more chance of getting this feature, but after trying with the stable official version and if you not find this feature try using the beta version from there by selecting I am a beta user option below the instagram app page of Playstore!
To get or access to enjoy this Instagram app icons/ to change Instagram app icon on android, after updating Instagram app, open the settings area, and swipe from top to bottom! that's it guys you will see the new list of Instagram app icons to change. then select any filter from there to add the short cut to your home screen!
How to change the Instagram app icon on IOS Iphone?
Friends, you guys can easily follow The steps provided for the android version provided above to get these feature to change instagram app icon as well, also the IOS version of changing the App icon video tutorial is provided below you can easily follow this method to get this easily!
I hope that all of my readers like this post on How To Change Instagram App Icon On Android and IOS iPhone 10 Year Anniversary Special well, also make sure to support me by commenting your feedbacks, Adding Me As Your Friend On Instagram and clicking the subscribe button to receive the latest updates on Instgaram filters, tiktok filters and snapchat instantly!