A New Ghost filter effect is now roaming around tiktok and Instagram videos! most of them are made for capturing their children's reactions by applying them and leaving them alone in the room. In this way, many parents shared their content, the majority of children got scared watching the fake cartoon-looking item and some of them started laughing while seeing it too!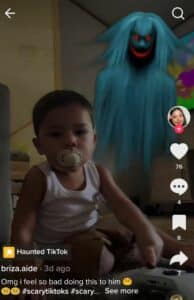 If you also have seen these types of content on social media apps, you might be interested in testing it with your baby or friends and capturing their response, but don't know how to do it and what the ghost filter app is used to create that right? here is all you need to know about it!
When you apply this from the options and start recording the clip it shows a haunted-looking ghost will appear and start moving from left to right behind that person in front of the mobile camera. usually, it has been used for pranking babies. adult people will not get scared by watching these types of funny items!
so let's move on to the steps, it's not complicated!
How to Do Ghost Haunted Filter Tiktok Trend?
To Do the Ghost tiktok trend, first of all, you have to install the latest version of the app from the app store and launch it again. then from the home page tap on the "search" icon shown above the right corner and look up "Haunted Tiktok".
then In the search results, this icon shown in the screenshot below will show up. just tap on the video icon next to the effect name. now it will be automatically applied to the camera recorder, then you have to start filming your video by selecting the record circle button.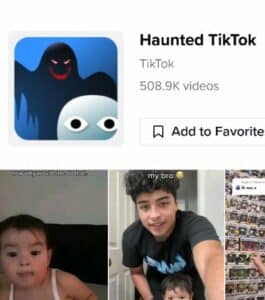 You can also use this direct ghost filter effect to open the page directly on your phone! after that all you have to do is by tapping the create!
also, check out – How To Use Tongue Twisters Filter on Instagram and Tiktok
How to Use Ghost Filter Effect Tiktok on Instagram?
many people may be confused about finding it because some also uploaded videos to Instagram reels and also seen on Snapchat snaps too, but the original one is actually available on the tiktok app only and no other apps are available.
so right now the only way to use it on Instagram, Snapchat, or any other platforms can only be done by saving it to your mobile device from the tik tok application and by using the save to gallery option available there!