Recently many Instagram reels and tiktok videos came by using this explosion filter effect on their mobile phone camera to prank their friends and family members. if the user sees this for the first time they will think it was a real incident because it looks original with sounds.
on the tiktok application creators also started sharing similar content by showing the reaction of their husbands after watching the prank explosion effect became very popular and got a million views and likes as well. then people started searching for the effect on tiktok app to use it and failed to find the exact one.
There are many comments on these videos asking where to find this and lot more regarding the filter, and the uploader replied that currently its not availbele on this platform,its from the instagram effects gallery,after filming the video using the insta story camera he saved it directly to the camera roll and posted to tik tok profile.
also check out – How To Do Voice Filter On Tiktok Videos
so let's see how to use it on your android or iphone devices easily
How to Use Explosion Filter Instagram on Tiktok?
in order to use explosion filter on tiktok, you have to use the instagram application itself. open insta after updating to the latest version. then open the story camera feature by swiping from left to right on the mobile screen.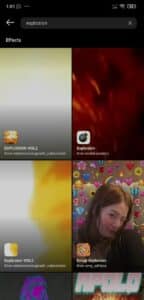 Now go to the end portion of the filtes by simply swiping left to right bottom area. at the end a magnifying icon will be displayed. by tapping on it the effects gallery page can be accesable. to find this one, tap on the search bar and enter "Explosion" and select the third one created by the username @mefekaradeniz.
the easiest method you can also use this direct link from here to apply it autmatically on story camera without spending time on searching process. after that tap on the circle button to record the content. then from the next screen simply tap on the dowload icon to save the output to your mobile device.
now it can be accessable from your phone's gallery and share it to your favorite platforms like tiktok, fb , yt etc!