Hello Users! Wanna find How To Get Face Lottery Pretty Filter On Tiktok the funny effect that is now followed as a challenge by saying " if it lands on a pretty filter, you are pretty! you may also want to use it and try if you look pretty or not by applying this interesting effect.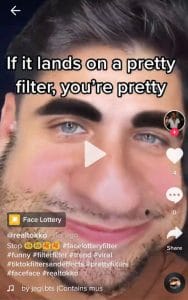 The Face Lottery effect also called as the funny face filter is something different from all other filters, the developers added many random faces looks inside this effect like the pretty looking one to funny face one as well, the reason why most of us are it's a most engaging one and it creates excitement to the users to know which face look comes last.
Rather than TikTok, it is also being seen on popular Instagram creators reels videos and stories, after watching all the videos some of us may search this effect on Instagram filters session, but we could not find it from there, because it's an effect only available on TikTok.
So to use it on Instagram story/reels all you need to do is use the TikTok app on your mobile phone and start filming the video using your front camera or the rear one. so here in this article, let's discuss the main topic on how to do the face lottery filter easily on TikTok.
Also read – How To Get the Old Face Filter Effect on Tiktok
How To Get Face Lottery Pretty Filter On Tiktok?
Here is how you can get the Face lottery filter on TikTok,
You can easily find this effect by simply searching for the effect name called "Face Lotter effect" on the search bar and tap on the use effect is the simplest way to get it. if you are new to TikTok you can read the following guide on How to Search for a filter on Tiktok by Name that we updated recently!
Before finding the filter open TikTok and make sure to select the exact music want to use for this trend, for that just use this music on TikTok provided here. now there are 76k+ videos already posted using this music till now.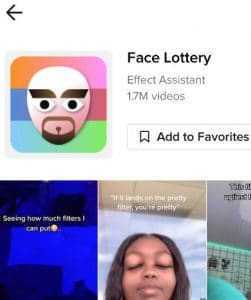 If you still could not find the exact filter you need to use, here you can use this effect link provided here and do it directly! Thanks for reading this post on How To Get Face Lottery Pretty Filter On Tiktok well, we hope you found this article helpful!