Do you wanna know How To Filter Comments On Tiktok iOS Android mobile devices 2021 filter comments by keywords right? Are you getting a lot of unwanted comments and want to limit or filter all of that comment you receive on TikTok videos, here is the article for you!
On the TikTok app, you can now use the filter comment option to hide any comments and also provides options like who can comment on your videos, block unwanted comments, and you can also block any comments by adding specific keywords, etc as well!
Tiktok app is getting bigger and bigger day by day and a lot of users around the globe spend more time now on it by watching entertaining videos and creating content on TikTok as well, compared to other social media apps the TikTok video creators and content are getting more viral.
If you are one of the content creators on TikTok, here in this article we will share with you the simple exact steps to filter all comment on the TikTok videos easily from you ios iPhone or Android mobile phone.
Also, check out – BEST TRENDING INSTAGRAM FILTERS!
How To Filter Comments On Tiktok iOS Android 2021?
Filtering comments on TikTok is very easy to implement from both of the IOS iPhone/ Android are the same, due to some reasons we may need to enable this feature to avoid specific comments you receive daily on your TikTok videos. deleting one by one is time-consuming and irritating as well.
To Filter comments on TikTok videos,
Open Tiktok App and Select Me/Tiktok Profile
Now select the Privacy Option Lock Icon from there
Then Scroll down and select Comments Option
Then you can enable Filter comments option easily!
Also, there are also many options available to filter comments by any keywords, and control who can comment on your TikTok videos comment session to Everyone, friends and no one as well,
Here is a screenshot shared below all of the features available to filter comments on the tiktok app,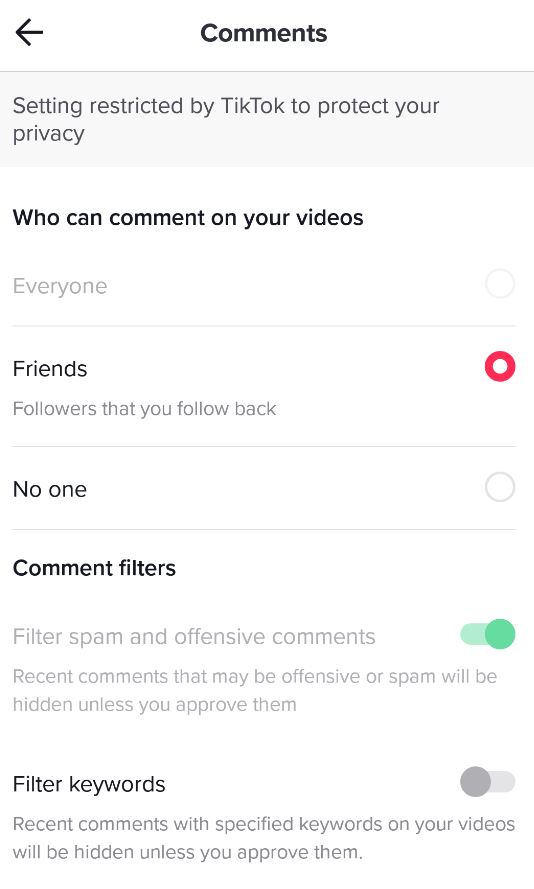 For more info, you can also watch the following video tutorial provided below,
Hope you all like this article on How To Filter Comments On Tiktok iOS Android 2021 mobile devices well, for any doubts contact us on Instagram and subscribe to us to receive the latest updates!