Feeling frustrated while seeing this "No results found on Instagram music story on your iPhone or Android phone while trying to add music at the time when you post new stories or reels on the Instagram app? here is the best method you can follow to solve this no results found error while trying to add your favorite music!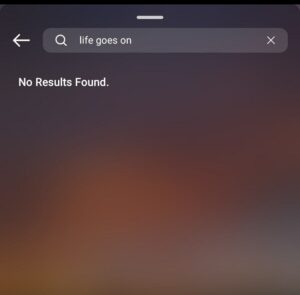 On Instagram music, we all know that there is a lot of music already available as well, users can use any of the songs and add it to their stories using the music sticker and add it on reels too. right now people who use this feature are experiencing issues and not able to add music via the search feature shown above.
if you are a reels video creator or a daily Instagram user who would like to post stories every day, this music feature is essential for your stories, by adding stunning sons your posts makes more attractive and engaging as well. your followers who like this will not skip away from that and continue watching your stories.
Here we are going to fix this no results were found while searching for music on Instagram story camera and reels easily, all you need to do is just simply follow all of the methods provided in this article, by doing these methods we had fixed the same problem and now the search showing the results without any issues!
Also read – How to Get Pic Of Your Pet Sticker on Instagram Story!
How To Fix No Results Found On Instagram Music Story?
To fix this Instagram music search not working No results found issue first of all check your Instagram account and change it to your personal account. mostly this error shows on many Business accounts on Instagram, we also had a business account and couldn't able to search for any new music. it only shows some music only in the lists.
So switching from the business account to a personal account will solve this issue well, to do this open settings by tapping the 3 bars shown above your profile page. select "Account" and scroll down to the bottom then tap on "Switch account type" and select Switch to the personal account.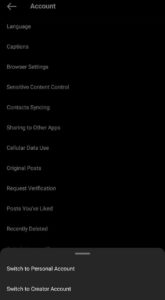 After doing this you need to clear cache, close Instagram, and log in again to see the changes as well, but some of the users who are using the business account are able to search for music, that may be changed according to the category they have chosen like blogger, video creator, creators account, etc if you are using the category like a store, footwear, clothing, etc may not be able to use it.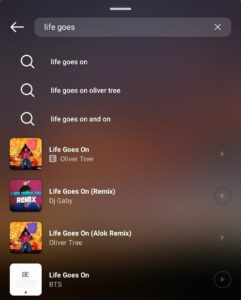 if after switching to a personal account still does not work for you that music may not be available in your regions, so to use it you can use the BEST VPN Pro app and switch the location to another. then open Instagram and search again!
if this issue still continues that might be a bug on Instagram, it will be fixed by the developers soon, we need to wait for the next updates to solve these errors!
Hope this article on the best ways to fix No Results Found On Instagram Music Story and reels became helpful one for your and fixed your problem well! for any comments and suggestion feel free to comment down as well!