Here is How to Get Pic Of Your Pet Sticker on Instagram Story that you are now interested in! we love posting photos and videos of our beloved pets on social media. if you also have a pet you should have a cute collection of photos taken on your mobile phone camera.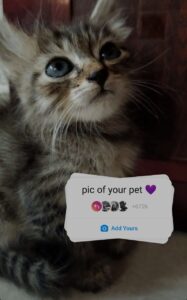 Now you can share that amazing Pic of your pet Photos on Instagram Story using the newest trending sticker called "add yours" which is now going as a trend. people who use this sticker are able to start an Instagram story chain.
you can name it whatever you like at first, like show your pet photos, show best sunset photos, etc add your favorite images to it and add them to your Instagram story! by creating this the followers and users will be able to follow and post stories as a chain story trend!
It's really an interesting feature of this new sticker, adding your stickers which have more popularity helps you to attain more story views than before if you didn't try these you should definitely check this out and see the difference!
Read – How to Get We'll Plant Tree For Every Pet Photos Instagram Story Sticker
Most of the users still have not got this new sticker in the story area, right now it is only available for some users only, it is said to be in the testing mode, you may need to wait for newer updates to get this sticker. right now if some one created a sticker using it others who don't have this sticker can also do it easily!
Here in this article, we will show you how to use and share pics of your pet photos on Instagram for ios and android mobile easily! so let's get started!
How to Get Pic Of Your Pet Sticker on Instagram Story?
To get or do this Pic of your pet photos Instagram story chan trending sticker, follow these steps provided here,
First of all, make sure to update your Instagram app to the latest version available, then search or open this profile named @Salih_____mhmd. then look at the highlights added right there. from there select the "Pic of Pet" highlights.
when you tap on it you will see an Instagram story created using this sticker. all you have to do is just tap on the "Add yours" with camera icon text on that story. it will open your Instagram story by adding this sticker overlay as well.
Then you can select any of the photos of your pet from the camera roll and post it directly on Instagram! that's how you can do it! right now in a few hours around 700k people added stories using this!
Hope you all found this article on How to Get Pic Of Your Pet Sticker on Instagram Story well, to get more updates on instagram filters, tik tok trends, etc you can also subscribe to us and for any doubts ask it by writing them down as well!