Are You Looking for How To Do Red Light Green Light Squid Game Filter Tiktok? this squid game Netflix series filter has been taken over the internet and everywhere you can see videos and posts related to it. now a game filter based on this show also going very popular on TikTok as a trend.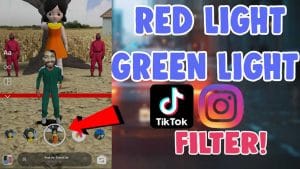 If you add this Red light green light game filter that we can play the game also with that viral music. it's basically a filter people found using to play the squid game first challenge. as same as on that series you need to follow the same rules.
The Interesting feature of this effect filter is you can play the red light green light game with your friends also! for doing this make sure to show both of the faces in your mobile screen front camera. so you can play it as a game using your mobile camera! that's really interesting.
The movement that can be done in this filter is by blinking your eyes fastly, also make sure that don't blink your eye when the music is not played, only try blinking at the time while playing the music in the background. you need to cross the line as shown in the squid game to win it! if you fail you will get eliminated as well if the doll shows red eyes!
Also, check out – How To Get Dalgona Candy Game Filter on Tiktok
How To Do Red Light Green Light Squid Game Filter Tiktok?
Here is How you can get or do the Red light Green light Game based on the squid game on TikTok. First of all, to use it on the TikTok app you need to use the Instagram app. because right now this effect is only available on the Instagram effects gallery!
You can easily get this filter from the creator profile easily. the creator of this red light green light effect is @dude.sg on Instagram.
You can get this red light green light filter game from here for Instagram as we added it recently! and if you win the game after crossing the line it will show like this,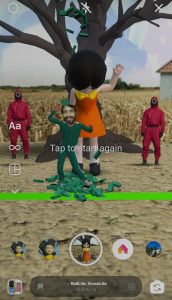 In the upcoming days, newer versions of filters will be added to the TikTok effects session, although this game version is only available on insta, so after recording the video you can save it to the camera roll directly, after saving the video add it to your favorite apps like TikTok, FB, etc.
Hope this article on How To Do Red Light Green Light Squid Game Filter Tiktok helps you to find the exact filter you are looking for! for any doubts or comments regarding this feel free to message on Instagram or comment below!