Have you ever wanted to know What Is Squid Game Challenge Tiktok Explained in a simple way? a challenge called cookie challenge with red light green light anthem music also in the past few weeks, the new viral trend called the squid game TikTok challenge has taken over the internet right now! some of the users still don't know what the challenge means and what the squid game is as well.
If you are the one who doesn't know much more about this new trend going very popular now on every social media site like TikTok, Instagram reels, FB, and even on Twitter too as well. the most important thing you can do now is trying to make a video on this new challenge. it will definitely get blow up and get more views for sure.
Squid game is a popular Korean Netflix series getting very popular now which is written by Hwang Dong that is published on 17 September on Netflix. in these few days it became the most trending item and it is said to be the biggest show on Netflix and it will break others records in coming days!
It's the perfect time to create a video based on this challenge because it's now the most searched and popular topic on TikTok, so the video on this topic will be suggested to all of the users who have watched any of the videos based on squid game challenge will get suggestions if you also use the same music used in that trend and by using the right hashtags in the description.
So let us get straight to the point, here is all you need to know about the trending squid game challenge on TikTok and how the users are doing it and the squid game cookie challenge also!
What Is Squid Game Challenge Tiktok Explained
In the squid game challenge on TikTok, people actually use the red light green light anthem music used on the squid game Netflix series and follow as on series. in that series that shows after that red light blue light music, you need to move forward slowly and if the movement continues if the music is not playing you need to stop moving and stay like a statue. that's how you can survive and beat the challenges.
in the squid game if the music stop playing and if a person keeps moving they will get eliminated. so right now the same thing is going like a challenge by following this movie scene and making spoof videos.
how to get squid game tiktok filter?
right now you can find any filter based on this series, in upcoming days it may be available in the effects area on TikTok or on Instagram, there is already so many filters available on Instagram based on this series, if you want to know the method to find it read this guide on – how to look up a filter on Instagram by name!
Another TikTok trend is also now being found is,
squid game cookie challenge
In the squid game cookie challenge, users try to make star-shaped dalgona candy without breaking its shape. if you fail to carve the dalgona candy, you get failed in this challenge. if you wanna make a try on it you can check out – how to make squid game dalgona candy cookie challenge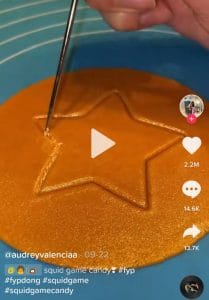 Hope you like this post on the topic What Is Squid Game Challenge Tiktok Explained and solved all of the doubts about it well, for any suggestions or comment feel free to mention it down below! sub scribe to us also for getting the latest updates!