Did you try to know the How To Get Squid Game Filter Effect on Instagram that is also seen on many TikTok videos right? it's the right time to make a video using this trending squid game filter! Here you can find out the best ones available on Instagram right now to create a new reel or story!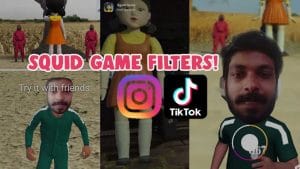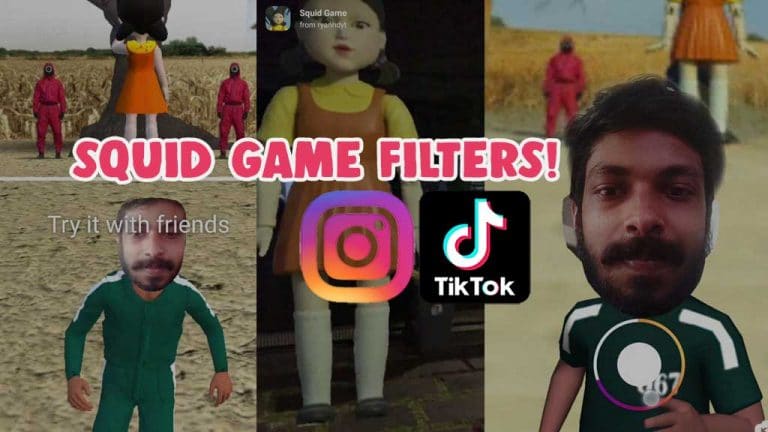 If you add the squid game filter it shows a doll behind you and makes you run by adding your face to one opponent. there are many versions available, one of the effects that can be used to play the game, you need to blink your eyes to start running when the red light blue light anthem songs play in the background!
many users already watched videos on Instagram and TikTok based on this new squid game trend. some of us still wonder about it and don't know what it means. actually, squid game is a new series released on Netflix a few days ago and became very popular and number one only in few days.
In this series called squid, the game is based on a survival type game of 456 people and the winner will get a huge amount of near to 39 million as a reward. this Netflix series getting more positive reviews worldwide and it should definitely break more records for sure.
Based on the squid game, there are a lot of people making videos about it on Instagram reels and TikTok as completing the challenges. right now there are so many filters created by developers around the world. you may also be noticed people playing squid games using an Instagram filter and doll standing near you etc
you may also like – How To Get Dalgona Candy Challenge Filter on Tiktok!
Also in Roblox, there is a game that came out as well, if you are interested in playing that Roblox version you can consider reading this article on How to play squid game on Roblox that we added recently! so let's start here is how you can get the squid game filter on Instagram and also use it on tiktok,
How To Get Squid Game Filter Effect on Instagram?
The First method To Get the Squid Game on Instagram is to find the filters by search it by using the name. if you are new on insta simply check this guide on how to search filters that were added recently! another way is finding the creator's profile. from the effects shown in their profile, you can use it.
Here are the best squid game filters available on Instagram right now, to see more filters you should check them in the browse gallery from Instagram stories.
Squid Game Red light Green Light Filter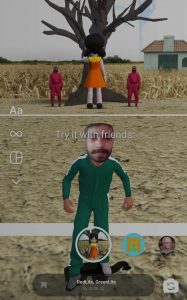 This filter is created by @dude.sg it's like playing a game with your friends, you need to blink your eyes to start moving and stop if the song ends and continue the same process as on the series to win it! Here is the effect link of this Squid game filter!
Another best version is created by @skena.ko.id as shown in the screenshot below, you can place the squid game doll filter on any plane area or interface. you can get it from here!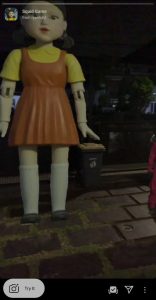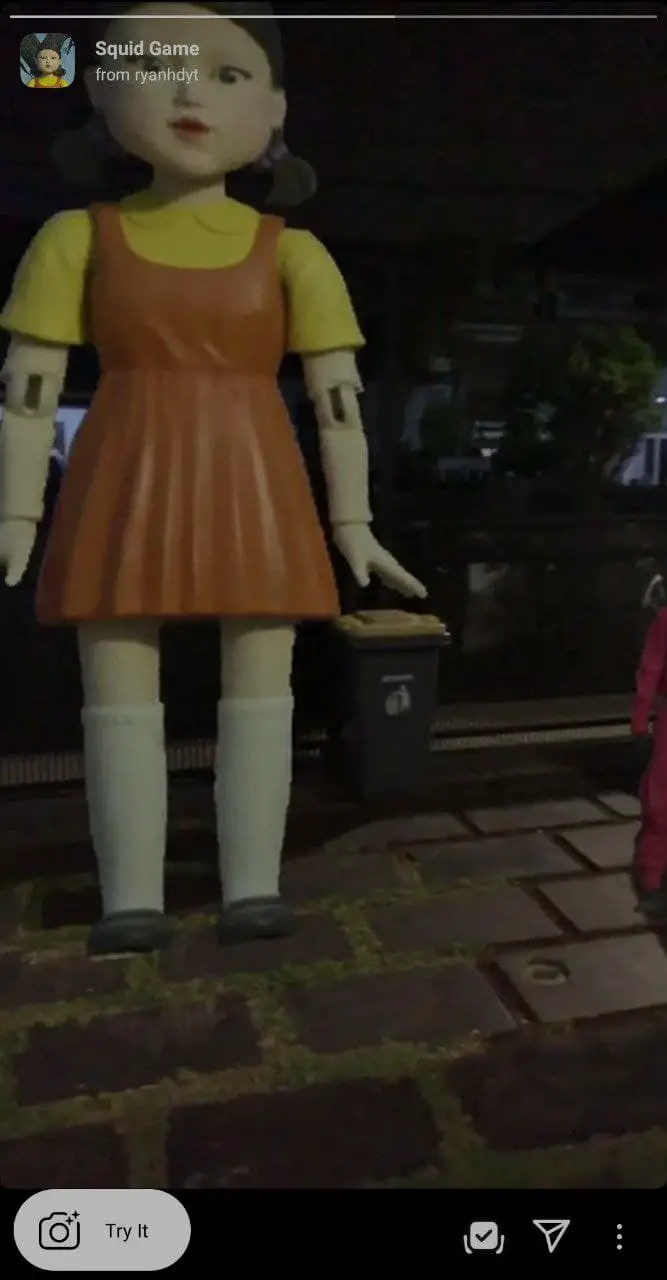 Squid game running version created by @masjjal.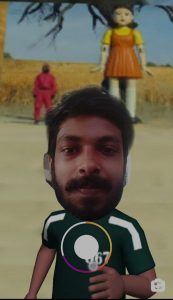 This running version effect can be used from here!
How To Get and Do Squid Game Filter on Tiktok?
To use it on TikTok, you should have the Instagram or Snapchat app, right now this squid game filter is only available there. incoming days should be created by the developers!
Also read – How to Post who are you in love with Instagram Story
Hope this post on How To Get Squid Game Filter Effect on Instagram helped you! if you still have any issues or comments ask it on Instagram or write it in the comment session below!