Are you wondering about knowing How to Post who are you in love with Instagram Story Sticker filter Trend? another trend is now going on virial on Instagram stories, we all know that on Instagram Instagram, and TikTok creators and normal people always try to introduce a new trend if the viewers have interest in that people always try to follow it as a challenge!
So here in this post, we are going to check out all of the simple steps you need to do in order to use who are you in love with the Instagram story sticker without any errors. some of the insta users also reported that they are not able to tap or post photos or videos to the add your sticker. we can also discuss these issues and fixes also.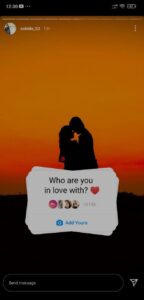 Recently a new feature called "Add Yours" was added on the sticker season (still only available to specific users and regions) by using this brand new sticker anyone can create a chain-type story! users can type any of the topics like who are you in love with, show your pet, etc, which also provides much more views to the stories than before.
another feature of this sticker is it shows up how many users are also tried or added photos in the last 24 hours and you can also watch all of their stories added to that specific topic as well! because of this option, some people who added to their stories using this sticker also checkout and scroll through all of the other stories added to this chain.
also read – How To Get Soulmate Initial on Left Thumb Filter On Instagram
this couple-based chain sticker is becoming more popular on stories around 1 million people already added photos based on this story they add most loved persons or things photos with boyfriend, girlfriend, couple, and even pets too as well. some people also add things they love most also.
How to Post who are you in love with Instagram Story Sticker?
To do this who are you in love with the Instagram filter sticker on your story Open this profile on Instagram @astrida_03. after opening their profile you need to open the Highlight named "Addyoursticker" which is shown at first. when you tap on it you will see a lot of trending chain story stickers.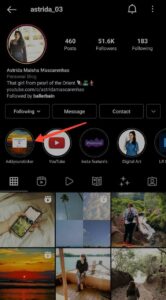 in @astrida_03 Instagram profile you can also check out and try many other story chain trends too. they also added the most viral ones in the highlights session. here is the video tutorial from the channel of astrida is provided below,
To get the who are you in love with Instagram story sticker just tap stories from the highlights and at last, you will find this one! all you have to do is click on add yours text shown in the video. it will automatically open up your story camera. there you need to add photos from the gallery!
also check out – How to do Show Me Your Profile Grid Photos on Instagram Story
Afer adding the photo you can adjust that sticker if you wanna make it smaller or move it as you like, after adjusting all of them tap on send to add to your Instagram story!
Why add your sticker not working?
for some android or ios devices, this feature still not working well, if you try the beta version or the latest official app from the AppStore or play store you will be able to do use add your stickers without any issues.
related – How To Fix Instagram Reels Not Uploading Android and IOS
That's all you need to know about How to Post who are you in love with Instagram Story Sticker, if you have any doubts regarding this feel free to ask it down in the comments session!