Did you know How To Poke Someone On Facebook IOS and Android In 2022 using the Facebook app or using desktop PC or mac as well, many users still have doubts about is this poke feature still available or does it is removed by the team right?
And the answer is the Poke Feature on FB is still not removed by the developer! that's cool, right? you can use this to notify your best friends in many cases. poke actually used to show their presence if one of your friends is not messaging you for a long time.
By sending a poke alert notification to someone, they can poke back also as well, right now the users can only send once, only after poking back they can send again as well. if the recipient does not respond back you can do it again. anyway, this feature has been removed for a while and added back again.
also check out – How to unfriend all friends on Facebook in one click!
Although this feature will help you to start a conversation with someone who is not chatting with you for a while. but on the latest FB updates, we cant see the poke icon on the menu area or on your friends directly. you may also try looking for that right?
So here in this article, we are going to check how you can simply do or find how to poke feature on Facebook that is not your friend and how to poke back as well by using iPhone or Android phone easily!
How To Poke Someone On Facebook IOS and Android In?
To poke someone on Facebook, and on the search bar enter "poke" and hit search. now you will see a pokes FB shortcut on the top. then you can tap on it to open the page as well, from there you can search for any users and poke them and do the poke back easily!
Open Fb app on your mobile phone
Search for Pokes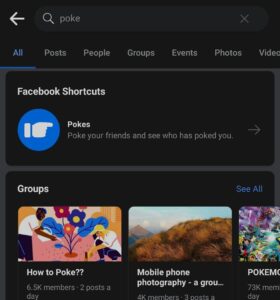 The Tap to Enter the Pokes page
Now start using the poke feature and poke friends on the FB app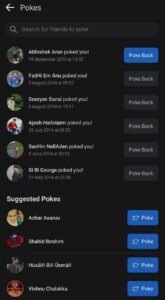 on this page you will be able to see all of the users who poked you before and shows suggestions as well, you can also use the search bar and search for a specific user if that person is not shown in the suggestions.
These methods are the same for android and iPhone mobile users. because it's hidden from the menu or anywhere on the app that's why people get confused and think this feature is removed or not!
also read – How to add multiple stories to Instagram story 2022?
How To Poke Someone On Facebook Pc and Mac?
You can follow the same method here also! all you need to do is just open Facebook on your google chrome safari web browser and log in. after that simply search for Poke as well.
That's all you need to know about how to poke someone on a mobile app or PC well if you have any comments regarding this make sure to ask it down in the comments as well!