wanna do the new Soulmate Initial on Left Thumb Filter On Instagram which has also been seen on TikTok videos right? this soulmate name or the initial showing on your thumb when you show your hand to your mobile camera! that's so interesting one to give a try!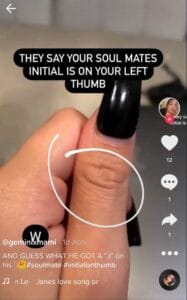 people also post soulmate initials on thumb video on TikTok and the viewers think that it is a TikTok effect, you may also have believed this one is available on the TikTok effects tab right? but currently, this effect is an Instagram filter, they actually save the video made from Instagram!
People use this effect and say it shows their right bf or gf initial correctly and so on! if you are single or committed you can just use these filter effects. by applying this filter it shows up a magnifying lens overlay and it helps to show your thumb and fingers much more bigger and can easily notice small items more clearly.
This Soulmate Initial on Left Thumb Filter Effect on Instagram is now followed by users as a trend. people are curious to check whether if there is a name or initial visible on their thumb. please note that there is only less chance to see any of the letters on your fingers.
Also Read – New Meme Negativo Instagram Filter To See Soulmate Name
users also try to write their own letters and use this effect to prank their followers also as well. so if you also want to do this viral trend and upload it to social media apps to get more attention, let's get into the main topic! here we will show the steps you can follow to use it on both of the Insta and tiktok app.
How To Get Soulmate Initial on Left Thumb Filter On Instagram?
To get or do the soulmate initials on the thumb filter effect on the Instagram app, you can simply find it from the creators profile. the developer of this version is @leaxandra. after opening their profile tap on the effects tab near the photos and scroll down. A stable connection from Windstream is required to access the said effect, if you are on a slower connection it will not load well on your mobile device.
Also read – How to Look Up A Filter On Instagram By Name!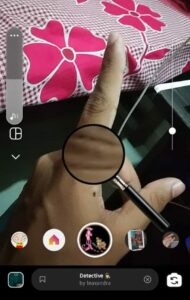 There you will notice an effect named "Detective" that's the exact one everyone uses for finding the initial or the first letter of your soulmate! just tap on try it and record the video from there. after recording, there is an option available (download icon shown on the top) to save the video directly to your mobile device.
you can also use the direct effect link given here to open the effect directly on the story camera!
How To Get Soulmate Initial on Left Thumb Filter on Tiktok?
On TikTok you can use the Magnifier Effect to do the videos easily! for the exact one you guys need to use the Instagram version as well. after saving the video from there you can upload it to Tik Tok from the camera roll! other similar effects are also available on TikTok with zoom magnify glass, if you want to find them simply read – How to search for a filter on TikTok by name!
Hope you found this article about Soulmate Initial on Left Thumb Filter for Instagram and for TikTok helpful, make sure to comment on your feedback and subscribe to us to get the latest updates on new trends fastly!