A filter on Instagram called "meme negativo" became viral by assuming that if you try this effect on your own hand, you will be able to see the first letter of your soulmate or lover written in your hand. many popular creators posted videos based on this on Instagram reels and tiktok too!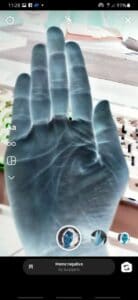 If you are also seen any of the videos recently, you might also be interested in checking your own hand to see the soulmate's name! right? but the real truth behind this effect is that It will not show up any letters or names! actually, the users manually write names or any letters and memes on their own hands and open up their hands.
The watching audience believes that by using this meme negative filter it will automatically show the letters. this filter only adds or makes your video negative color grading. so many funny meme videos are made using this are getting millions of views in a smaller period of time.
So if you are also looking for how to find this meme negativo effect, you can simply use it by reading this article, and the easiest way to use it as well. if you are a tiktok user, you need to use Instagram story camera to record the video clip or use similar negative filter camera apps to get the same output.
Also Read – How to do Instagram Eye Color Heart Wallpaper Trend
How To Get Meme Negativo Instagram Filter to check Soulmate Name?
To find the meme Negativo Filter,
Open Instagram App after updating
Then open the story camera by tapping the (+) icon
Now Swipe from left to right and open Browse effects
Then enter "Meme Negativo" on the search bar
Open any filter from the results and tap on try it!
now you can use this negative effect to record a video!
if you follow the above-mentioned steps you need to open the filters gallery and manually search for it to use it, that method is very simple to follow as well, another easy way to get it is by opening the developer's profile, in our case the creators name is @lucagens, from his profile effects session you will be able to use it too!
And the easiest method is by using this Direct Meme Negativo Filter Link given here! then it will automatically open on the story camera by applying it as well, after that only you have to do is hold the record button to start filming the meme video after writing the first letter of your soulmate or girlfriend's and boyfriend's name.
some users also use this effect to impress their crush by writing their first letter and mentioning them in their stories too!