On the April fools update, new free exclusive hippomelon pets have been introduced where you can unlock the hippomelon pet. they can be claimed easily by following the simple tasks provided in the game as well! but it's only for a limited period of time only. if you haven't claimed during this period you will not be able to claim these exclusive pets.
During this time you may have found a new notice board or poster placed near the bank area on the main city left side area. on that notice board, it says type April fools in the chats, and when you follow this you will get another 2 more tasks to complete to unlock the pet as well.
pet sim x is a very popular game available on the Roblox server by BIG Games Simulators which has a lot of fan bases and players around the world, in it, you can own more than 100 variety of pets, trade with players, and explore many places, and a lot more as well.
Also Read – How To Get Cat Hoverboard in Pet Simulator X
So here we are going to complete all of these tasks very easily and claim the free pet in the game, for this just follow all of the steps clearly mentioned in this article below,so lets get's started,
How to Get Free Exclusive Pets in pet Simulator X?
To get or unlock the new exclusive pet called hippomelon,
First you need to open chat and type "April Fools" and send it! it will shows up April Fools 1/3 step has been completed above the screen!
Now a Hint shows "Be Generous" so you need to trade 4 pets and diamonds to any noob in the server by using the trade option to complete the 2nd task.
Then you need to "Sacrifice 3 festive Elfs" by going near the fuise pets machine in the game and fuse 3 of them.
now the exclusive hippomelon pet will be unlocked and available in the your pets session!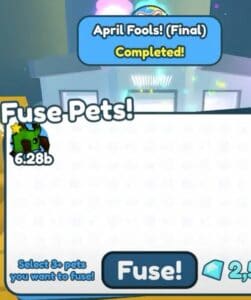 if you did't have any Festive elfs you need to buy it first via trading by provinding the players diamonds or pets fisrt.only after that you will be able to unlock this pet after fuisng elfs.
here is a tutorial video also provided below, so you can clear your doubts as well,
If you are not able to unlock it by following the steps, that may because that task might be closed and its a limited time task. this hippomelon is most demanding one right now, so many people also got this by trading with the other players as well!