On the new Christmas update on roblox pet Simulator X a new most awaited feature, Hoverboards has been introduced! now you can use different types of like cat shaped hoverboard, blue flying carpet, flame, sleigh, red flying, VIP, Bling, Original, Rainbow versions available now.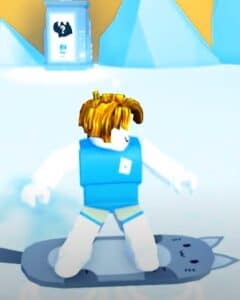 it is said that in the coming updates there will be more items will be included as well, recently we all know that it is not able to use any hoverboards and skate with them and explore the map more easier than running around the areas.
The Pet Simulator X is really an amazing game basically for pet lovers, where you can enjoy many features and find and explore cool pets, you can buy eggs and hatch rare pets, complete quests, explore many locations, trade pets with any other users, etc as well.
if you are looking for the methods on getting these new hoverboards you can check out it to unlock it for free from here without wasting time.
Also read- How To Get Huge Easter Cat In Pet Simulator X?
How To get the cat Hoverboard in Pet Simulator X?
Now you can find a new icon shown on the left side with a hoverboard when you tap on it you will be able to find all of the different types there as well, basically, on that page, it shows you need to unlock a hoverboard, 250 Robux is needed to use a randomly selected one from it.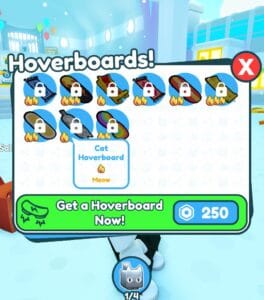 Some users also said that you can achieve one of them for free by completing certain tasks/quests, or by reaching high ranks in the game leaderboards, if you have the gamer pass also will be able to unlock it too. right now this new feature is only introduced and many quests are still not available.
but in the coming new updates, the developers will add more tasks in order to use all of them for free, now there are 8-9 model hoverboards available in the pet sim x. collecting one of them requires completing or doing a required thing.
when you hover over any of them from the list you will be able to see the required challenge, here are the different hoverboards available right now as the following,
Cat type – right now many people still don't know how actually this one unlocked right now because it only shows "Meow" text only on the hints. all of the other one's hints are clearly mentioned, there is a video on youtube that is viral now, where someone stands above the cat hoverboard. in the coming days, we can assure it will be shared by any users.
anyway, you can easily use any of the other boards like,
Rainbow type Hoverboard – you can unlock it by merch code redeem
original – own it by using gamepass
Bling – you need to spend robux more than 100k
VIP – you need to have game pass with one hoverboard
Sleigh Hoverboard – can unloack it by finishing the 2021 christmas task
Blue Flying carpet board – for using this one you need to be in the top 10 list of the leaderboard in the game
Flame type board – for this you guys need to became a big games parter!