A New Material Girl that makes you look like a Roblox character has been following as a trend on tiktok and Instagram reels videos with the music saying "material Growl" in it! on this trend, you can see a character dancing according to the music as well.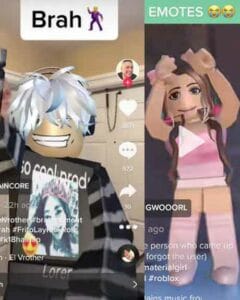 When you turn on this effect on tiktok camera it will transform you into a Roblox game look, that looks so impressive if you had played this game you will definitely like this effect more as well, another important feature of this is it will cover up all of your body and shows all emotes more perfectly.
if you show hand movements, rotate, or dance by applying this filter and showing it on the front camera or rear that character shows it perfectly. cool one right? users post videos by adding funny captions like Roblox characters in real life and more. around 365k+ short videos have been already uploaded now and they are getting more views than usual.
Some users also want to know the music name used in these videos, in most of the videos seen, people are using a fast version of Saucy Santana Material Girl and bass boosted version too, some creators also found using other songs too.
if you have seen reels videos using the same effect, please note that right now this version is only released on the tiktok app, so you need to use it for making the video, after creating it you can simply save it to your mobile device easily.
Also Read – How To Get Cat Hoverboard in Pet Simulator X
How To Do the Material Girl Roblox Filter On Tiktok?
To find this Roblox Material girl filter, make sure you are using a newer version of the tiktok app, then from the home page, you will see a search bar on the top right side. tap on it and type "MATERIAL GWOOORL" and search for it! there you can easily see the filter shown at first.
Related – How to search for a filter on the tiktok app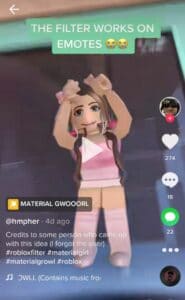 if you want to use it without searching for it, you can also use this effect link provided here! from that page you will be able to apply it directly to the recorder camera on the app. after that you need to add this music to the video before recording your video.
There are another 3 versions of the Roblox filter also available well, if you are looking for this one, all of them and its icon provided in the below screenshot.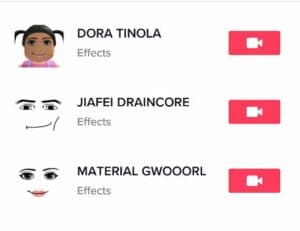 You can use Dora Tinola, JiaFei DrainCore versions also from here! these are the best ones only available now to film your funny moments. to make it more creative you can use these 3 variety items of them in a single video too!
Why this filter is not showing?
if this effect is not showing up on the search results or not able to use it, there are some easy ways to fix it! The first option is to use any Best Free VPN app and change your location to other locations, also make sure to clean the caches of the app. and make sure to use the latest android or iPhone ios update too.