In the recent Update of the pet sim x Roblox game a new Character – Huge Easter Cat has been released and every player is looking for the easy methods to unlock it faster! this pet is really hard to unlock, still, many of the players are trying to get it by hatching eggs available in the game map areas.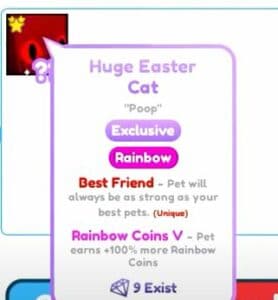 The huge easter Cat is a rare and legendary pet that can only be unlocked by hatching easter eggs during this event! this pet will be bigger than other pets as well and have more features as well, many users say that only a few lucky players only got it by hatching, only 9 exist in the entire game world! that's really interesting!
Those who don't know about pet simulator X it is developed by Big Game Simulators, basically, the game is about collecting some mythical pets, diamonds, and coins which on hatching gives you secrets for finding pets that are rarest and greatest. The game is the third version of the original pet simulator. Now for the Easter surprises, the game comes with a Huge Easter Egg Cat which gives you a chance to get what you wish for, A huge Easter Cat!!
Surprises, Surprises!! Everyone likes a big surprise we all wait to find a surprise even on birthdays from loved ones if you're getting it on a gaming platform it just adds sweeter to excitement. Let the serotonin and dopamine just shoot up, Yes! You guessed right an Easter egg the concept of surprise. Easter egg was also introduced to the gaming world a long time ago and people love it!
Stimulates the serotonin when we get what we waited for right? Coming back to Roblox the makers also added mini surprises to the players in the game in this article we focus on how to get a huge easter cat in pet simulator x. There are four Easter eggs in Roblox each containing different pets and the legendary Easter egg is the main player onboard search for it if you chase the luck.
also read – How To Get Cat Hoverboard in Pet Simulator X
How To Get Huge Easter Cat In Pet Simulator X?
You may have noticed the game simulations has almost the same processes relating to the physical world this is also the same we need to break an egg!! But before that, we should make sure we find it before anyone else right? We have some thoughts for that too, when the legendary egg spawns the players get a severe wide broadcast message then we should start our search teleport unlocks, and donning a hoverboard will help in searching for the legendary Easter Egg. These upgrades will help you to increase the chances of obtaining the egg faster than any other opponents.
Some players mentioned that using the Ultra Lucky Boost option from the shop area can increase the chance of getting this Huge easter cap pet!
The egg has a chance of hatching at about 0.002%. Now for the interesting facts about the Easter egg cat, the Easter Egg cat is similar to a huge cat but it has bunny ears, it comes with a random enchantment and its strength can be matched to any pet you already have. You can also hatch the Huge Easter cat to the golden version or to the rainbow too!