if you are looking for how to get the Riders Sonic skin and sonic in Roblox sonic speed simulator, that has been released on the latest update, here you can check out how you can find it easily by entering a new epic code in the shop's area.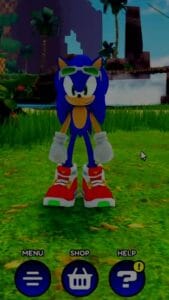 We all know that riders sonic is an epic skin that looks very cool as well, you can claim this skin for free without any payments as well! before that release, a new skin was also released called Sonic that can also be unlocked by jumping from a specific area of the location on the map but to get this one you have at least level 30 completed. so here you can see how to unlock both of them!
If you're an animation movie lover surely you must've heard about sonic the hedgehog. Recently the second part of the movie was released. As you know sonic is an alien with super speed. And the Gamefam game developers introduced the first-ever gaming experience with the blue alien Sonic the hedgehog. Gamefam did say that they are grateful to SEGA for entrusting them with creating the best Roblox experience for the gamers. And on landing, it has become a massive hit!! And now it has about 20k players.
Also Read – How to get Sunlight Marker, Mimic and Foilage in Find the Markers
Now we can move on…
How to get Riders Sonic Skin in Sonic Speed Simulator?
To Unlock the Riders Sonic, simply follow these steps,
open the game and tap on the Shop option shown below
then select Redeem Option
Now Enter "RIDERS" and select redeem!
Now this Riders Sonic Skin will be Unlocked!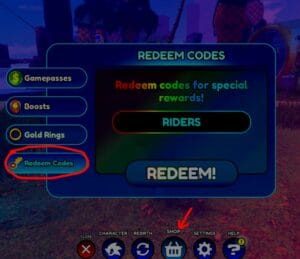 how to get sonic Skin?
With the new sonic speed simulator, you can play the games as sonic but for that, you should unlock the character sonic. Now we're here to explain how to don sonic character. It is super easy if you obey the instructions carefully. First of all, you need to start the game.
It is released as a full version without payment so you can freely play the full version on both PC and on your smartphone excitin', isn't it? But let me tell ya you should only attempt to get sonic when you have reached level 25 otherwise you cannot run and reach the character. To reach the level, set your goal in mind then boom!! Enough of imagination we can move to the instructions.
As the game starts scan for an area with a big railing, next to it you will find a blue robot, it will inform you the location of the sonic card is up there then you should run through the grassy green loop gaining enough momentum and velocity to jump through the end of the loop
Now you have acquired sonic you can swap to your hard-earned avatar by clicking on the character menu and clicking on sonic and enjoying the change. Dropdown your comments and queries.
Roblox is an online platform to play games as well as developing and creating them it was created by Roblox corporation established by David Baszuki and Erik Cassel in 2004 the relatively small gaming platform boomed in development during a pandemic. It is a real-life platform even with virtual currencies called robux it helps the users to conduct microtransactions for purchasing and selling items and getting avatars and upgrading them. Roblox also encourages the emerging minds of virtual game developers with talent.
But sometimes meets some criticism as the game is intended to be used by minors and most of the gamers and developers are also minors some say it is not ideal to introduce the transaction system to the game platform and also they face some criticism on the contents in the game.