Are you facing a new issue and wanna know How To Fix Snapchat Account Compromised And Locked 2021 password reset error on iPhone android, right? recently a lot of Snapchat user's accounts got locked and faced this error Snapchat compromise password as well, you may have so many complaints on Twitter also based on this issue!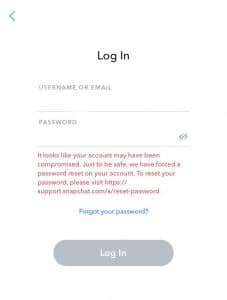 A lot of Snapchat users experienced this error showing that Snapchat's account has been compromised and locked on ios iPhone and android users also! because of this issue, so many users can't even able to use their account that shows to reset passwords, etc
Some Users also think that their account got hacked and tried to report it to Snapchat support also! also, rumors spreading on this issue is that those who received this notification/error those profiles will be locked and will lose access to their old memories, etc.
so are you also received this error message on snap, right? and looking for how you can solve this issue? let's check out all of the details about this in this article, also make sure to read all of the details without skipping to know more in detail!
Also, check out this – How Does The Snapchat Know Where You Born Time And Place!
what was that snaphat support password reset error message?
The main error shows like this- when the user tries to open the Snapchat app it has been logged out and shows " your account is compromised and forced a reset password" so many users reported receiving this error message as well!
This Bug mainly happened for the IOS Apple device users who are running version 11.38.2.39 or lower, users updating to the latest version can solve it!
How To Fix Snapchat Account Compromised And Locked 2021?
Snapchat already replied to this issue on their Twitter post also to share suggestions if you are experiencing issues. To fix the error you need to Update your Snapchat application to the latest version 11.38.2.40 (IOS) available in the Appstore or Google Play Store available right now.
Most in case this issue will be solved while updating the app to the latest version if that issue still continues and pop up you guys need to reset your Snapchat account password can only solve this error popping up in red. Snapchat recently introduced new criteria and if you did anything against that Snapchat account will be locked out!
If you use some of the third-party apps with Snapchat, add more friends without any limits, using Snapchat without adding email id or phone number, etc also causes this error as well! you can see the screenshot provided below the reply from Snapchat support why your account got locked!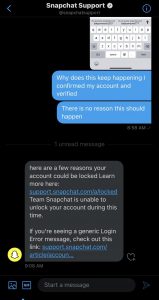 you can also check out the new criteria you need to follow to fix the Snapchat Account Compromised And Locked error check out this article on Snapchat support!
Hope you guys like this article on How To Fix Snapchat Account Compromised And Locked 2021 password reset error solved well, for any doubts contact us here on Instagram and subscribe to us to receive the latest updates on how to tech tips and filters instantly!