Hello Everyone! Are you facing many network server errors like and Fix Voila Ai app Couldn't process Image Not Working error Android or iphone ios/ voila app face not detected error? The Voila Ai Artist app became the most trending filter for the apple app store and trending on android as well.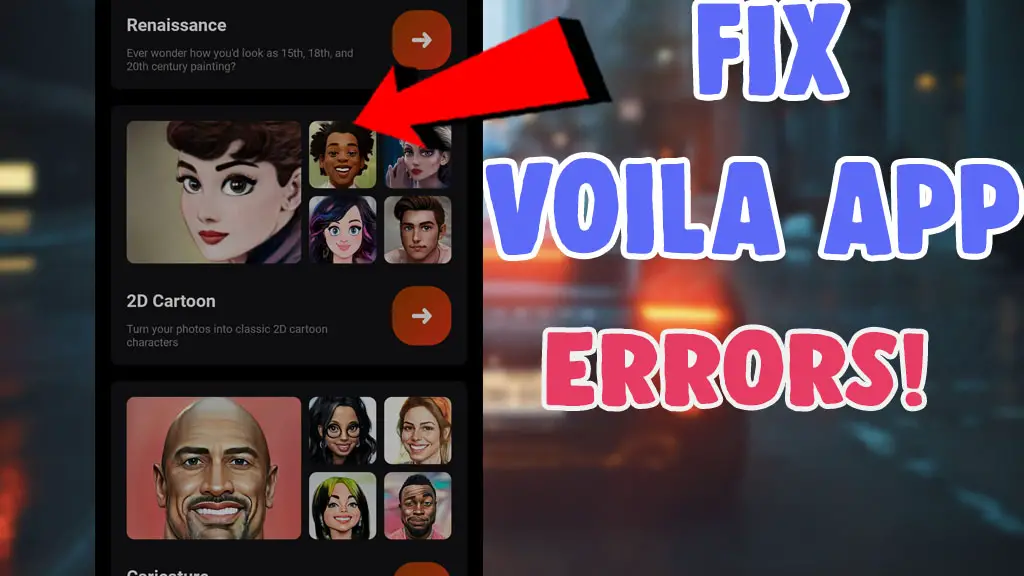 By using the Voila Ai Artist app on your mobile phone you can easily transform your normal selfie or photos into cartoon photos, 3d cartoons, and caricatures in one click! it's amazing right? You may already see many videos on social media apps using this cartoon photo app.
There are a lot of downloads and usage of the voila ai artist app increased recently and lot of new users experienced so many issues while using this cartoon/caricature face-making app voila on ios or android devices.
Also check out – BEST TRENDING INSTAGRAM FILTERS!
Here in this article we will share with you all what is the reason behind this error and the ways you can use to fix this server error, voila app couldn't process image, face not detected error when you try again and again.
How to fix Fix Voila Ai app Couldn't process Image Not Working Error?
Voila App is an amazing app that you can transform normal photo into 3D Cartoon, Renaissance, 2D Cartoon, Caricature also looks so amazing and realistic!
While checking the reviews on the app store or playstore you might see many positive reviews and negative also. most of the negative reviews are about these kinds of network errors and face not detected issues as well.
In this case, The Voila Artist Ai Team already posted a reply on their official web desk as well, They say that if you are facing these issue it is because their servers reached maximum server capacity is the issue is causing these errors, you need to wait for a while or check again tomorrow will fix this error.
Here is a screenshot provided below about the reply given by the Voila Wemagine.Ai Team,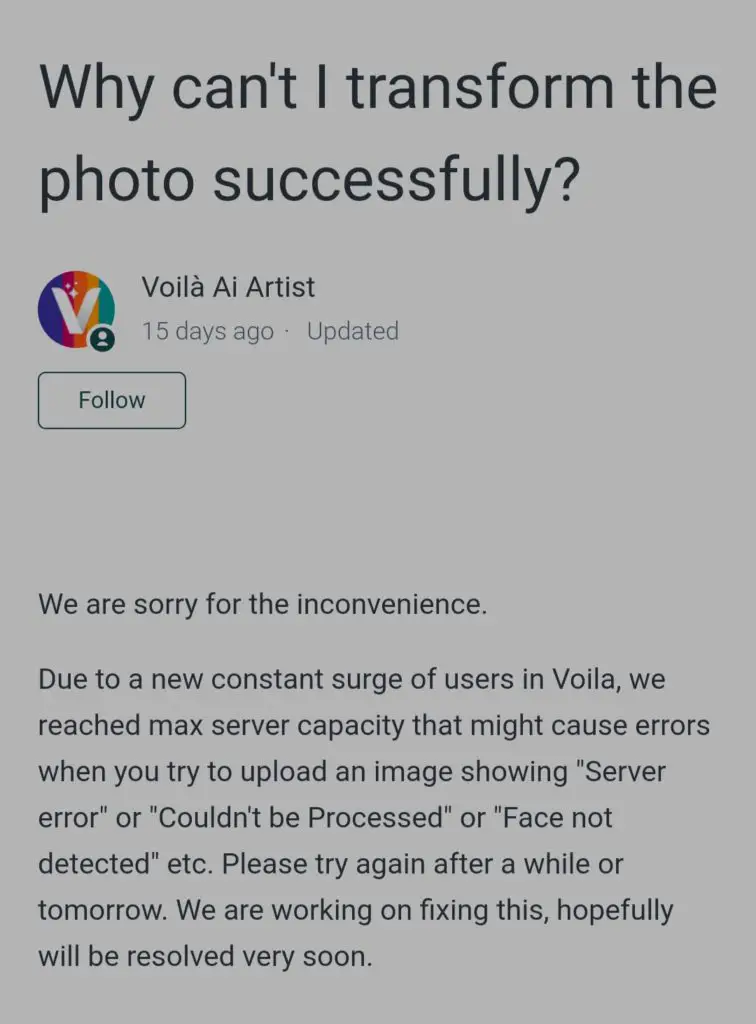 Also The Voila App is now not available in some countries like India, etc because of the higher demand and usage increased issue, they said that they are working on it right now and will be fixed in coming days.
How to Fix Voila Ai app Could't process image/face not detected not working error?
This app is still working perfectly in certain locations like the US, Canada, etc there is a method you can try to fix this problem is using any VPN app, and try switching your location to another location may work without any issues.
Hope you all understood this article on the Fix Voila Ai app Couldn't process Image Not Working Error well, for any doubts contact us here on Instagram and subscribe to us to receive the latest updates on instagarm filters, tiktok filters and snapchat instantly!