Right now people are posting videos using the new Rotoscope filter and some want to know how to remove the rotoscope filter from the tiktok videos to the original or the normal clip. people are sharing crazy videos using this effect because it will make you look like a cartoon-drawn look.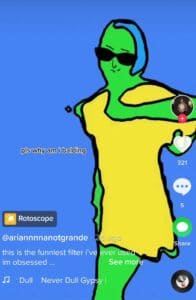 The usage of this rotoscope effect increased because users can do anything by applying this effect, no one can see their normal looks. users have taken this as a privilege to do anything by applying this filter and started sharing on tiktok and Instagram reels as well.
This trend is a really fun one to try right now because if you also make a video and share it on social media, you will get more views because it's now trending everywhere! small creators also getting more views than usual, so there is more chance of getting your content viral based on this topic.
Also, Read – How To Get New Invisible Filter On Snapchat
many users also look for the rotoscope Instagram filter to use it on insta reels also, if you have seen it on reels it is not available on the browse gallery, so you have to use tik tok app itself to create a video using it and you have saved it to camera roll first. after that you can upload it anywhere you like as well!
So let's get straight into the steps,
How To Get Rotoscope Filter On Tiktok?
To get the Rotoscope Effect,
Open the Tiktok App
Now tap on the search box from the top left side
now type "Rotoscope Filter" and search for it
after that, you will see the effect on the top search results
then tap on the video recorder icon to staring recording a video with it!
Here is the icon also provided below,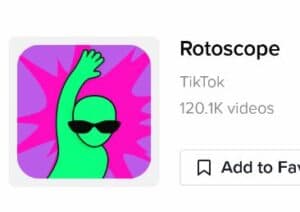 if you could not find it from the search results, you guys can also use this direct rotoscope effect link also so you don't need to look it up in the search results or find it from the session.
How To Remove Rotoscope filter in tiktok?
To remove the applied Rotoscope Filter in a tiktok video, that video should be available in the drafts session of your profile. when you tap on drafts and click the back option you will be able to remove or unselect the effect you selected and change it to the normal video clip. all of the steps are provided in this previous guide well, so you can check out this How Can You Remove a Filter or Effect From Tiktok Video.
Some people want to know is it possible to remove the rotoscope filter from a saved tiktok video and if you are also looking for this, actually it's not possible and there are no apps currently available to do that process! if you have any tutorial videos, most of them might not work well!