A new invisible filter effect is also known as the "inv1si filter" on Snapchat will make you disappear is now going very viral on tiktok videos and Instagram reels as well, when you add this on the app and shows your face or any object through your mobile camera, it will make them invisible like magic.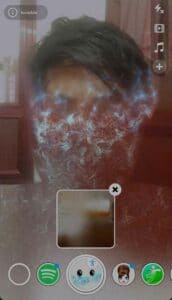 There are many versions of this disappearing invisi filter available on Snapchat, so here you can check and experience 2 of the best ones according to our choice! TikTok videos using this effect already got many views and on Instagram too! some of the users might think it may be made by using some apps available on the play store or AppStore.
Creating this invisible video is a really simple process and doesn't require installing any other apps as well, so here we are gonna check how to do the invisi trend that is now going very popular on social media for beginners! if you are looking for insta version also you can get it on Instagram too which will also be included as well!
Also for TikTok users – How To Use Teleport Invisible Filter on Tiktok
How to Get Invisible Filter on Snapchat?
To get the Invisible effect, follow these simple steps mentioned below,
Open Snapchat App after updating it to the latest version
Tap on the Lens/Search option shown above-left the side
then enter "Invisible" and select the effect from the list
Tap on the Explore lenses and search again to see more variants!
here are the best 2 variants provided below,
you can use the first one from this link and 2nd one from here!
the second one is so realistic because it can be used to create a video to show you completely disappear from that place by capturing the background area first!
How to Do the Invisible filter video?
once you select the Invisi from the effects area, it will automatically apply to the snap camera as well, all you have to do is to hold the record button. in the case of the first version, you need to wave your hand on the front camera to make you invisible, to make you visible just do that again as well!
in the second version, you need to capture a still photo of the background by holding it on a stand without changing the location first, after that tap and hold the record button to start creating the invisible effect video!
How to get an invisible filter on Instagram?
On insta, you can find it from the creator profile named @w.vv.vv as well, or use this direct link to open it on the app directly! to use it just tap on the try it and tap on the screen to make you hidden and to tap again to go back to the previous stage!
we prefer using the snapchat one, because they are so amazing and looks more realistic!