Hey Friends! Searching for How To Get Dark Mode On Snapchat IOS and Android 2021 Not showing Fix or dark mode feature missing / how to enable dark mode feature on snapchat app for apple iphone and android devices without root/ how to turn snapchat to dark mode? you are at the right place!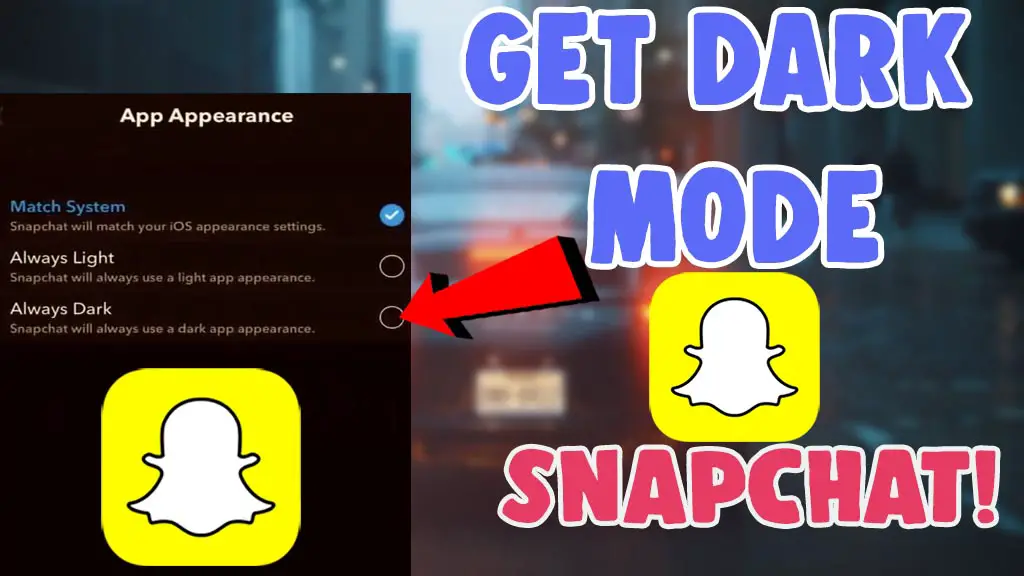 Recently on Snapchat, the team introduced the most awaited feature to change the interface look or theme to dark mode. pretty cool right? most smartphone users are dark mode lovers.
By using the Dark mode or the black theme feature on the snapchat app looks very cool and helps to reduce eye strain and saves a lot of battery charge as well. if you are a daily user of the snapchat application, you should also enable this feature on your snapchat app.
Also Check out – BEST TRENDING SNAPCHAT FILTERS!
How To Get Dark Mode On Snapchat IOS and Android 2021?
Want to get dark mode on snapchat/ enable dark mode on the snapchat app on ios 14 / android without using root right? here we will sow you how to do it just follow these steps.
To Get Dark mode on snapchat/ enable dark mode,
First Update and Open Snapchat
Tap on your Profile pic on the above-left side
Now Select Settings from the above right side
Scroll Down and Select "App Appearance"
Now Select "Always Dark" to enable dark mode on Snapchat.
Here you can see the screenshots of the settings that you can see on the snapchat app when you tap on the snapchat settings from the snapchat profile,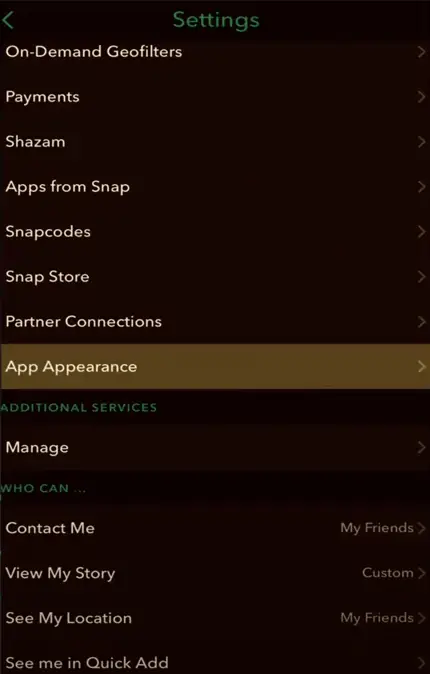 After selecting the screen appearance you will see like this screen, from there just change the theme to dark mode by switching from match system settings to the Always dark mode!
What if the Snapchat Dark mode feature is missing on my IOS or Android Device?
These settings or feature to enable dark mode is now limited to some devices and locations as well. many android devices sill not received this new update and users are using rooted devices by using substratum themes and some devices supports system settings to make or enable dark mode on snapchat for android devices.
So you might need to wait for some more days to the new updates to be rolled out for your IOS or Android devices. this dark mode feature may be on the testing mode and now only available on some IOS devices and limited country locations as well.
How to get/enable dark mode on Snapchat Android no root 2021?
You can check out the following video to do it on Android device to know how to turn on dark mode on snapchat well, sill some of the devices have no these settings available, buy can also give it a try to get dark mode on snapchat on android without root in 2021,
Hope you all like this article on How To Get Dark Mode On Snapchat IOS and Android 2021/ how to enable dark mode on snapchat/ put or enable dark mode well, for any doubts Message here and support us by clicking the bell icon/ subscribe on this article to receive the latest updates on instagram filters, snapchat filters and tiktok filters, how to tutorials instantly!