Hello Everyone! Looking for How To Get Warmer V3 Filter On Snapchat and Tiktok? or Instagram right? the warmer filter effect became very viral on the social media apps like TikTok, snapchat, and many Instagram stories as well, when you show your thumb on the screen a surprise video or photo pop-ups on your screen.
Warner v3 filter has been used by so many users and shared videos on the internet became viral as well and users are trying it with excitement. also, check out how to search for a filter on TikTok from here.
many users think that this warmer filter effect is available on TikTok or Instagram filters area, but this original version of the warmer v3 filter is only available on the Snapchat application, you should have the snapchat app installed on your android or iphone device to try out this filter.
Also check – BEST TRENDING TIKROK FILTERS!
How To Get Warmer V3 Filter On Snapchat and Tiktok?
To find out the warmer filter on snapchat app is very easy,
Open Snapchat app
switch to the explore tab
then tap on the search area
type "Warner V3" and tap search
then select the first one named Warmer v3
here is the video tutorial you can do follow to get or do the warmer filter on snapchat or tikotk,
Here is the Direct link for the Warmer V3 Filter on Snapchat, by tapping this link just scan the Snapchat code, or by tapping the code it will automatically open up the Snapchat app with this warmer v3 filter effect applied to it.
Attention readers, this Warmer filter has been reported and removed from the snapchat app filters area few hours ago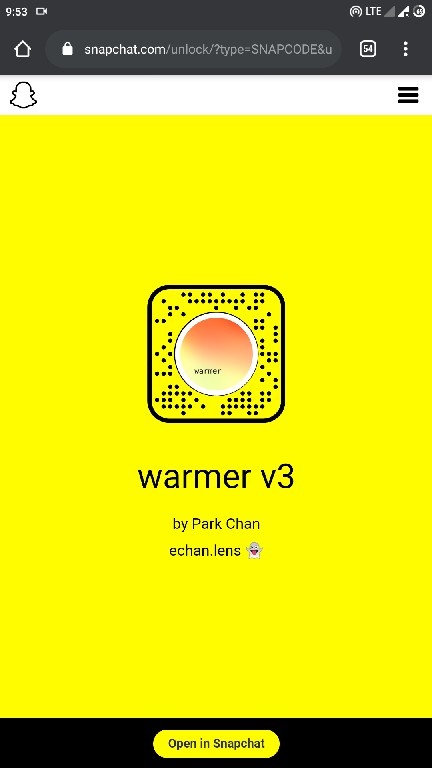 Then you can record the video easily by tapping and holding the record button shown below at the center. if you are a TikTok user and want to use it on TikTok, the only way you can do is just record the video clip by using the Snapchat application for ios or android.
after taking the video tap on the save button to save the recorded video to your camera roll easily. then you can add or upload to any social apps like tiktok or instagram as you like.
Hope you all enjoyed reading this post on How To Get Warmer V3 Filter On Snapchat and Tiktok well, also for any doubts contact here and support us by clicking the bell icon on this article to receive the latest updates on Instagram filters, Snapchat filters, and TikTok instantly!