Have you seen the new filter called Pokemon team on Instagram reels and stories used by many of your friends or following people by showing 6 variety pokemon teams above their heads? if you are also looking forward to getting and using it here is how to find it by using your iPhone or any android phone.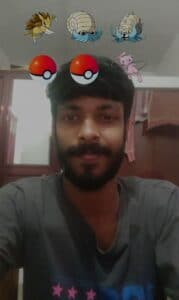 users also add videos on tiktok profiles and Snapchat accounts by using the same type of content too, so they may think that the same one is also available on tiktok. but if you have to make a video, need to install the Instagram app. because now it's only available there in the story camera session.
some people who try to use it also said its stops after showing the 4th one on the screen because they can't keep the hold recording for a longer period of time. and also faces issues and not working on devices with old os versions and in certain countries.
so here is how to get it on your mobile phone, the method is the same on iPhone and Android!
How To Do Pokemon Team Filter on Instagram?
Open Instagram App
Head over to the story camera by swiping left
Now swipe from left to right and go to the end of filters and select magnifying lens icon
Now on the search area enter "Pokemon Team" and select the first one
After that just tap on Try it and hold the record circle to start creating a video with it!
that's how you can do the Pokemon team video
you can also try using this direct effect link given here to apply the filter automatically to the insta story cam. so you don't need to look us for it! that's very easy to find it, right? the creator of this one is @Max_aivi from this profile also assessable too! if you are using make sure to mention the developer also!
related – How To Use New Crying Sad Face Filter On Instagram
if you have not able to use it try these methods,
clearing all data and cache
by updating to the latest version
connecting with a VPN application and changing your region
try logging in from another device
if you are facing automatically closing it after showing 4th pokemon every time, you need to select the reels option and select the exact one and try again with 30 seconds or more. so it will not automatically stop again!