People on Instagram, are now using a filter that makes you cry face or the sad face look on Instagram stories and reels. most of the videos are recorded on trying on their besties without knowing them this filter is applied.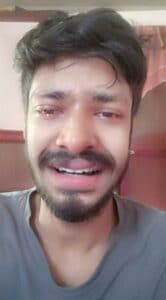 by using this crying face filter on your mobile device, even if we try to smile or say anything facing the mobile camera will change your face look to a very sad-looking expression! it really a hilarious one to try with your friends and family!
nowadays this one is trending all over the internet, some people also posted many reels by applying it to many popular celebrity faces movie scenes, and tv shows. it works well with your pets like cats, dogs, etc too. so here we are gonna check out how to get this crying/sad face filter on Instagram, so let's start
How to Get New Crying Sad face filter on Instagram story/reels?
First Open the Instagram app on your device
open the stories tab by swiping left
then select the reels option or story you want to use
now select the effects icon and search for "sad face" and select the right one from the results
in the case using it on a story, you need to swipe from left to right and select the magnifying lens icon to open browse gallery.
after finding it just open it and tap on the "try it" to start making the video!
here are some of the best ones available on insta to try out,
you can try the first one of them and the second one from here as well! so you don't need to waste your time searching for it and looking up the right one.
Also read – How To Do Shook Filter On Snapchat and Instagram
we recommend using the Snapchat lens one because it is more accurate and provides good output compared with insta. So you can use this Snapchat crying face version also from here too! please note that most of the videos you have seen on the reels and tiktok are directly taken from the Snapchat application via saving it to the camera roll after recording it.