Hey readers! here is the How To Make Introducing My Happiness Video Edit Reels tutorial for Instagram and for TikTok. you may have the same version of videos on TikTok also, by using the video editing apps like Capcut, kinemaster, etc that are available on android devices and ios mobile you can also create this video easily!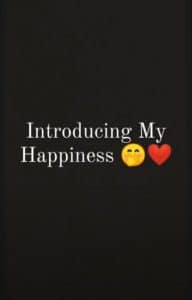 Introducing my happiness is getting used by many users around the world recently, but still, this trend is not faded out and you can also see many users still looking for this video tutorial trend on the internet and youtube as well if you are also the one who likes this trend you can also learn it from here!
This trend called introducing happiness actually shows the text first and shows your most loved ones video clip or photos with amazing effects added in it! its looks so promising and cool as well, you guys can also make these type of video from your mobile phone without taking much more time, it only takes 2-4 minute to create this video and post it to your favorite social media apps like Instagram or TikTok as well.
Also, check out – How to make Qara 07 reels editing video for Instagram reels!
Can't wait to make the trending video for Instagram reels and TikTok posts? here is how you can do it using the video app called Capcut that is available on iPhone and Android as well, other apps you can use is viva cut and kinemaster app) you can simply follow all of the steps mentioned in this article carefully to make the video more accurate according to the music beats!
How To Make Introducing My Happiness Video Edit Reels
To make the Introducing my happiness video editing tutorial on cap cut app, first of all, you need to use a black background to type text at first, in some video editing apps the black background will be available there as well, also you can use this Black solid color background provided here!
Start a new project and black background set it to 1.9 seconds duration
then crop it to 9:16 format
Then select tap to add subtitle and select standard
Now type Introducing my happiness there and click ok and save it to gallery
after that add saved video first and add next video clips or photos
make sure to adjust video/photo duration to 2 seconds
Then add any effect you want by tapping the video clip and apply effect to all!
you can add any of the audio you want to use it from any video files or audio available in the gallery!
Here is a detailed video tutorial on how to do it easily,
If you feel this method is too complicated you can also try the more simple method using the Vivacut video editing application as well, on this app you can use the saved project and open it with Viva cut video editor and just simply replacing all of the existing videos by your own videos/photos in it! here is how you can do it,
Hope you all like this article on How To Make Introducing My Happiness Video Edit Reel for instagram and tiktok well, for any doubts comment down below or ask on Instagram and subscribe to us to receive the latest updates about new Instagram, and TikTok trends instantly!