The new Mohanlal Monster movie in Malayalam was released on 21 October 2022 and the monster movie review in Malayalam by Santosh Varkey has been given to the media team recently! it is one of the most anticipated releases in the Kerala film industry.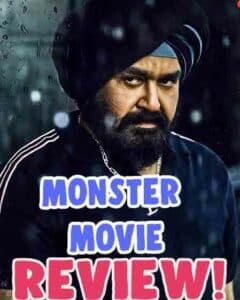 After many issues in recently released movies like Araattu, Markkar Arabi kadalinte simham etc became huge loss. the fans of this actor are curious about the upcoming items like empuran 2 based on lucifer recently released, barroz, randamoozham, Ram, etc. some of them are still in work and dates are not confirmed yet.
Arattu Santosh Varkey a famous reviewer from Kerala star who became a star after sharing his opinion about arattu became viral on social media. after that, the viral term "Aaaradukayaanu" became used by most people in Malayalam. after that, he started sharing a genuine opinion about most latest updates on the first day's first shows.
People love his slang and explanation in their own style, in recent interviews, he shared basically a huge fan of Mohanlal also known as lalettan sir loved watching his movies from his childhood '90s, and still love the style and dialogue delivery. also included hope it will be a huge success in his career and if it got positive response after the first show it can break the recent records of Puli Murugan, lucifer, etc that crossed 100 crores for sure.
Monster Movie Review Theatre Response Malayalam
Monster Malayalam Movie Starring Mohanlal, lakshmi, Honey Rose, Sudev, etc directed by vaisakh who is well-known from mammukka's pokkiri raja and produced by Anthony perumbavoor as well. lalettan mentioned monster will be a fresh experience for film lovers and fans. there are many surprising elements that are hidden in the story.
As an actor, there are many new specialties included in this, and will not feel any lags too. audience after watching it says it feels like low phase class, an edge-to-edge thriller, with fun pack elements, amazing action scenes, great visuals, background scores, and more.
The story is different from other genres recently watched, the script plays a major role as well. it will be different for every viewer's view as a treatment. can be slightly compared with Mammootty's Rorschach. it cannot be compared with pulimurugan or other mass movies.
also read – Vijay's Beast Movie Review First Show Public Response
for those who love the class genre, dark-shaded suspense thrillers it will be a fun-to-watch movie and worth every penny!