Recently the new trending add yours Instagram story sticker based on a challenge that says they will plant 1 tree for every pet pictures your add to your stories, after doing that so many people who try to add photos are not able to do it and not working correctly!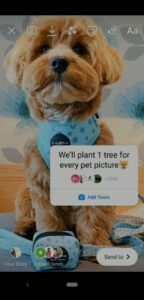 Many of us still want to know who has created this viral chain story and who will be planting trees per one post that were added on this Instagram, everyone is curious about knowing this, here is everything you need to know about this viral trend now taking all over the stories.
Actually, this chain story was created by a popular nature-related tree-planting organization and they don't think that their chain story will get this much popularity in a few hours, around 6 lakh+ people have been joined the story. while seeing this result they can't handle all of the photos and plant trees according to it.
Also check – Fix Not Able To Click On Add Yours Option Instagram Story
because that cost a big amount of money and will not be able to do it with few members of that organization, also the photos posted using this sticker will only show for 24 hours and It will get disappear, so because of all these issues, they had to remove the story after few hours.
How to get We'll Plant 1 tree for every Pet Picture Instagram Story Sticker?
This Chain story sticker is still available on this Instagram profile of @astrida_03 in the highlights session. if are able to tap on add yours photo icon you can post it directly to your insta easily!
But sorry to say that right now this chain story has been removed by the creators because of its popularity and they could not plant this huge number of trees with their budget and using their efforts, the creators don't believe that will hit lakhs of attention and follows towards this topic.
Anyway this became most talking one on the social media and news websites as well, and because of the deletion of this chain sticker, we will not be able to post the stories again! it's now closed and ca't tap on the camera icons if you had found it somewhere on the users highlights.
No another method is now anyone can create your own add yours planting trees pets instagram story from the instagram story camera's stickers. its is now available globally to all of the users. if you are willing to create a brand new topic you can simply name it yourself and post it as well!
After doing that so, the followers can add their own photos to it and will go popular if the topic is unique and different from others. so you can give it a try. if you don't know how to do it from here!