Today is the day that all of the SSLC Students are currently waiting for! at 3 pm class 10 Sslc results Kerala 2022 Live will be published and at around 4 pm you can easily check it by providing the registration number and details on govt websites.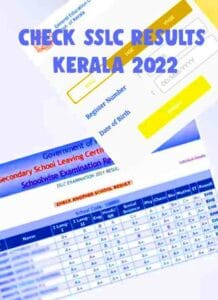 So many students and their parents want to know the best and fastest websites to check all subject's marks and percentages and marks one by one or by using the school code to see all student's marks as a list! if you also want to know all of these here you can check all of the working ones!
Around 4,26,000+ has been written the sslc exam recently and everyone is waiting for their results, it has been conducted in 2960+ centers as well. thslc results for the hearing impaired will be also announced and will be available on some sites too.
So let us check out how to check yours,
Class 10 SSLC Results Kerala Pareekshabhavan School Wise
The govt education department has released a notification regarding all the list of the available website. but many users report the website's down issue because of huge traffics coming from many devices around many locations.
According to these issues, govt has upgraded its servers to more reliable ones which can handle lakhs of real-time visitors and also include other similar mirror sites which can also be used to see the marks of the Kerala students.
How to Check Kerala SSLC Results 2022?
here are some of the best fast websites you can use to check sslc results easily, if one of them takes more loading time try visiting the last one because they do not know well and there is more chance the visitor count will be low while compared to firs ones. you should include HTTPS tags with missing items.
https://results.kite.kerala.gov.in
sslcexam.kerala.gov.in
https://www.prd.kerala.gov.in
by opening these sites you have to enter the correct registration number and date of birth on the form and click on check results to see marks.
Also Read – Free Best High School Diploma Online No Cost For Adults 2022
how can I check school-wise SSLC results?
after publishing all data to the website, they will also include the school-wise option too, so you can use it and see all student's grades at once! most of the teachers are using this method to calculate the win percentage of the high school.
how do check THSLC and AHSLC results?
to know THSLC scores you can visit thslcexam.kerala.gov.in and for AHSLC simply search for ahscexam.kerala.gov.in as well!