Hello Readers! wanna know How To Get New Tattoo Filter Tiktok and Instagram or snapchat that is now being used by many users on many tiktok videos and instgram reels/stories? wait! you are at the right place!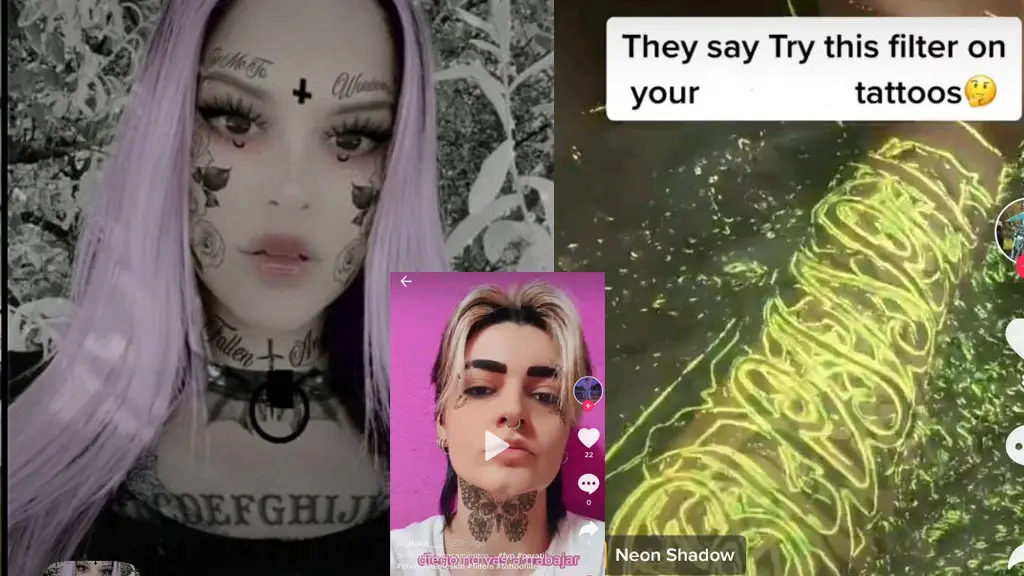 Here in this article, we will share with you all the best two versions of the tattoo filter effect that popularly found on TikTok videos and on Instagram reels. one version of tattoo filter effect is used by users who already have tattoos on their body and one tattoo filter used by poeple who have no tattoos.
By using the first version tattoo filter effect on an existing tattoos on your body you can make a more colorful 3d looking neon lines tattoo effect videos as well, so many TikTok users and Instagram users already shared videos using this filter a few months ago as a trend!
Now a days this tattoo filter going as a challenge trend again on tiktok videos as well, by using the second version of the tattoo effect it adds tattoo to your face that looks so realistic one! cool right? there are many versions of tattoos you can try as you like!
Also check out – BEST TRENDING INSTGRAM FILTERS!
How To Get New Tattoo Filter Tiktok and Instagram, Snapchat?
To get the first tattoo filter those who have tattoos can easily get it from the TikTok app by simply searching for the filter on the search area! this tiktok tattoo filter everyone using is known as the "Neon Lines" Filter effect on tiktok. id you don't know how to search a filter you can read this How to search a filter on TikTok by name from here!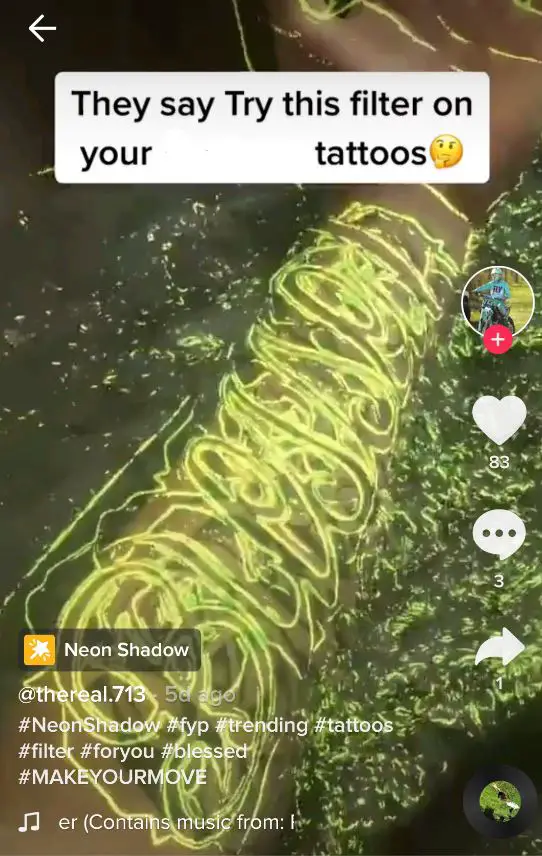 Another simple way to get this Tattoo Filter/ Neon Line Filter by using this Direct link provided here! after opening effect link just tap on the video record icon to open the tiktok app automatically with this tattoo filter added in it! from there you can record tattoo filter effect video easily!
Another version of tattoo filter effect used on many TikTok videos and Instagram that have no tattoos available on their body is added below! there are many varieties available to try! All you have to do is to use Instagram filters or many of them are also available on Snapchat!
you can easily find these different amazing tattoo filter effects by simply searching for them on the Instagram filters browse the gallery! if you are a beginner you can check out – How to lookup a filter on Instagram by Name!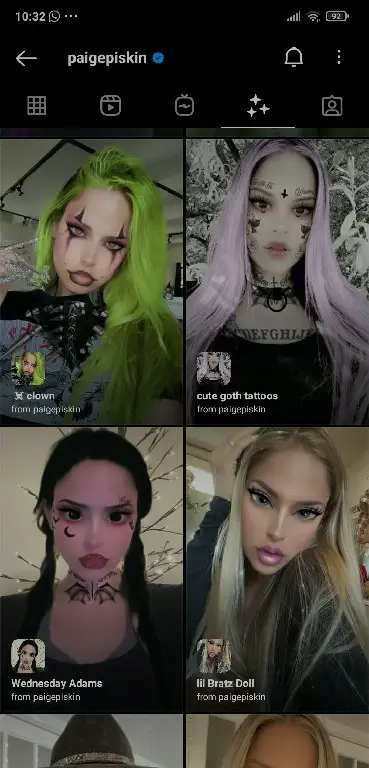 You can definitely check out the following popular Instagram filter creator profile @Paigepiskin for amazing tattoo filters and more!
Hope you all like this article on How To Get New Tattoo Filter Tiktok and Instagram / tattoo effect tiktok well, For any doubts contact us on instagram and subscribe to us to receive the latest updates on instagram filters, tiktok filters and snapchat instantly!