Here is How To Get Venom Let There Be Carnage Snapchat Filter and for the Instagram users for reels and stories, this one looks so realistic and perfect as you saw in the venom movie. if you have tiered looking for this Snapchat lens using the search tab available on the app you can find the exact filter from here you wanted right now!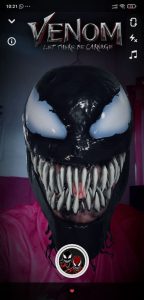 If you Apply this Venom let there be a carnage filter on Snapchat, it changes your face to the original venoms face with an added animation. the transformation looks so cool! this effect is also being used on Instagram reels, Facebook videos, and Twitter posts as well.
This filter is getting more popular right now because of Venom 2 movie is to be released on coming October 14th 2021 worldwide. because of this people are really curious to watch the 2nd part of this movie. so many videos are uploaded on various apps using the exact Snapchat lens to show the supports.
Also check – How To Get Dalgona Candy Squid Game Filter Tiktok
There are already a lot of lens effects created by various creators around the world, and through searching the effect and finding this exact one is a little task process, so here we will try to give the direct way to use the How To Get Venom Let There Be Carnage Snapchat Filter effect and record a stunning video with it.
How To Get Venom Let There Be Carnage Snapchat Filter?
To Get and use the Venom Let There Be Carnage Snapchat Filter,
Open Snapchat App
Tap on the search bar and enter "Venom" and serach
Now from the serach results find a filter with 2 faces red and black one from the 3rd row
Now tap on it and start making venom video with your friends.
Here is the Let There Be Carnage Snapchat Filter icon looks like ,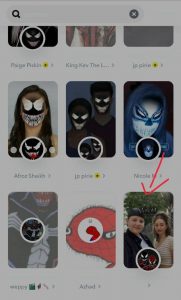 You can simply get this by using the Direct link of Venom Let there be carnage face effect link added here. once you tap on it, you will see an option to open it on Snapchat. after tap it you will see the effect
Another specialty of this venom effect is you can try this with 2 faces without any bugs, so simply play with your friends or family and post it to anywhere you like. currently, this exact version is only available in the Snapchat app only. to get the same on other apps only way is by saving the video to the gallery from Snapchat.
How to get Venom Filter on Instagram?
if you want to use the venom filter on the Instagram app, there are some versions already available there on the browse gallery. if you are willing to try any of them, check this guide on – How to search a filter on Instagram by name! that was added already before.
That's all about How To Get Venom Let There Be Carnage Snapchat Filter effect you can use it on Instagram or TikTok as well! hope this article found you helpful, make sure to subscribe to us in order to get the latest filters, trends, and tutorials fastly!