The new trend is again rocking on TikTok! If you want to know How To Do The New Capcut 3D Filter On Tiktok tutorial trend and the music used for making it, here you can find the simple method to make your video more stunning using this effect! These cap cut 3d filter videos are also being posted on all of the other apps also including Instagram reels as well.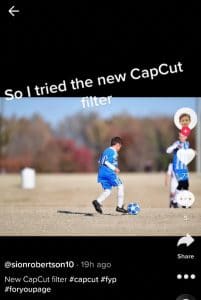 On Capcut 3D filter effect people actually add certain music and make it sync to the video or photos added to it by simply adjusting and adding the 3d effects in certain durations in the video clip. these stunning 3d transitions make the cap cut trend more unique than other videos!
This filter looks so cool when you add it to any of your images! the main feature of this is it transforms normal-looking photos/videos into stunning ones by making it 3d zoom movement in it! users also adding captions like this new capcut filter is fire etc using hashtags like #capcutfilter #3dfiltertiktok #capcut3dfilter etc.
So many of us think that this cap-cut 3d filter effect is an effect that is available on TikTok or on Instagram and only selecting that effect and adding photos or videos can be done with the app itself. if you have your own amazing clips or photos of yourself or others, do wait let's try making a video by following the steps provided here.
Also you can read – How to Do Raise a Toast Darla TikTok Trend tutorial
It is found that many pieces of music are being used on different videos, if according to different songs the transition duration should be changed and adjust to the music sync. Music used in this new trend is Industry Baby by Lilnas X & Jack Harlow can be used from here or add this music to your favorites to find it faster when to try to add it at the time you upload the video to tiktok.
How To Do The New Capcut 3D Filter On Tiktok?
To make the Cap cut 3D Filter video on tiktok, you need to use an app called Cap Cut that is available on both of Android and iPhones as well. after downloading the app add your favorite photos you wish to add the 3d effect to it.
A new 3D Zoom pro is now available in the Styles options, it will be available next to the older 3d zoom effect. this effect should be adjusted according to the music you use in that video. for this music, Industry Baby adjust the video or photos to this duration. and add this effect to the photos it can be applied by tapping the photo and select Styles>3d zoom pro.
Adjust first video to 2.7 seconds
1st photo to 1.7 seconds
second photo to 2.9 seconds
Adjust 3rd image to 2 seconds
make sure to add the effect to all of the images well to make this video.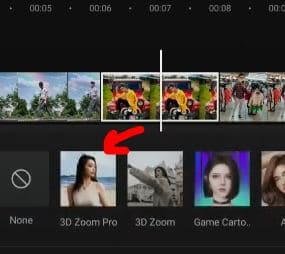 Here is another music video, so you can follow this and apply the same on different music by adjusting the time stamp duration.
This is all you need to know about How To Do The New Capcut 3D Filter On Tiktok and can be used it on Instagram reels also. also feel free to ask any doubts or comment your suggestions below!